This from the incomparable Joe Queenan, in the Weekly Standard, who knows that context is everything:
"While traveling in the west of England recently, I had occasion to dine in an organic restaurant just outside Cirencester. The restaurant was clean and inviting and resolutely wholesome, with a small but equally wholesome grocery off to the side. Everything in the building was radiantly, obstreperously organic. The apples. The pears. The potatoes. The kale. The waitstaff.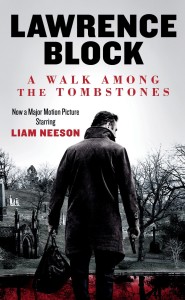 "For lunch, I had some sort of organic vegetable quiche and an organic pastry. They were both quite tasty. I also had some coffee. Shade-grown, of course. Very piquant. As I was leaving, I noticed a used-book rack over in the corner. I expected the books to be all touchy-feely, Diet for a Small Planet-type material; but no, staring right up at me was a variety of thrillers, including a brand-new copy of Lawrence Block's A Walk Among the Tombstones. The movie version of the book had been released a few months earlier. A picture of a very displeased, very determined-looking Liam Neeson adorned the cover. It looked as if he were already preparing for installment four in the series that launched the action-hero phase of his career, Taken 4: To the Cleaners. I snapped it up.
"That night I started reading the book. A beautiful woman is abducted and held for ransom somewhere out in Brooklyn, then returned to her husband in pieces. Very small, neatly wrapped pieces. The widower hires Matthew Scudder (the central figure in many other Lawrence Block mysteries) to bring the depraved killers to justice. The killers, we subsequently learn, are ex-DEA operatives who have a history of luring beautiful young women into the back of their van, torturing them, murdering them, and leaving their mutilated corpses in graveyards. One potential victim escapes death only because she allows the men to cut off one of her breasts. She has to choose which breast. At the end of the book, when the killers are brought to—or at least very near—justice, the mastermind of the original kidnapping plot is left alone with the widower, who thereupon chops off all of his appendages, cuts out his tongue, and blinds him…."