That's what my Frequent Companion and I encountered two weeks ago at the annual Rhubarb Festival in Aledo, Illinois. We also saw the Bear Tree in Bloomington and the Kokomantis in Kokomo, and posted an abundance of photos on Facebook, where you can probably still find them if you search diligently. But that's all you're going to hear about them now, because I have Other Things To Tell You. And I'll number them, to give this missive the illusion of order: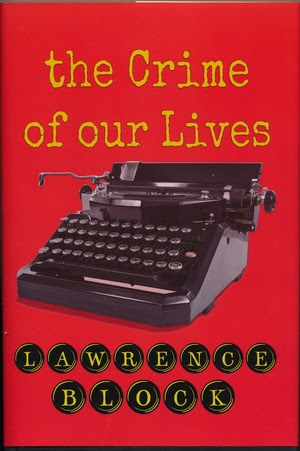 1. The Crime of Our Lives is out in hardcover!
We were set on a hardover edition from the beginning, and it should have gone on sale the same time as the ebook and paperback. We certainly should have had books in hand for the May 7 event at The Mysterious Bookshop. Well, no point in crying over spilled ink. The good news is we've got books, and the even better news is that they came out gorgeous—beautiful dust jacket, quality binding, elegant interior design and printing.
There are several ways to get hold of a copy. (A) Amazon has TCOOL hardcovers in stock for $24.99, with Fulfillment By Amazon that guarantees fast delivery and includes free shipping to Amazon Prime members. (B) We've got 30 autographed copies—oops, make that 28—in stock at LB's eBay Bookstore, where the price is $24.99 plus shipping. (C) Select mystery booksellers will offer the book. At the moment, only The Mysterious Bookshop has copies in stock; they're signed, of course, and a call to Ian at  (800) 352-2840 will assure you of a copy. (And if you're a dealer and would like to stock TCOOL, hardcover and paperback, or want to do some early holiday shopping at a very attractive quantity discount, email lawbloc@gmail.com; "Attention: David Trevor" in the subject line will get that worthy lad to pay attention to it.)
I don't want to suggest that the TCOOL hardcover will be hard to get; as its publisher, I may well find it hard to get rid of. But you might want to note that the first printing is only 1000 copies, and I don't realistically expect to go back for a second printing. So it's not a collector edition (although if you're a collector you probably want to own it), it's not signed and numbered (although you can readily obtain a signed copy), but it's essentially a de facto limited edition. It keeps getting generous reviews—not to worry, I won't quote them here—and, well, if you want a hardcover copy, you might want to buy it sooner rather than later.
2. Another writer's LB books go under the hammer!
A writer friend of mine was recently compelled to downsize his library radically. Among the casualties were a couple cartons of books of mine; rather than truck them to the thrift shop or the dump, he thoughtfully left them on my figurative doorstep. Nine of them bear inscriptions—seven to the man himself, two to his late parents—and these are either more desirable than mere signed first editions (because they're association copies) or less so (because unless your name is Philip, they're not inscribed to you, so why would you want them?)
So y'all get to figure out what they're worth. I've put them all up for bidding at eBay, with photos of the covers and the inscriptions, and a starting bid of 99¢ apiece. No great rarities, but mint copies of various Burglar and Scudder titles. Go get 'em!
3. New additions to LB's eBay Bookstore!
Just a few, and probably not exciting enough to warrant the exclamation point at the end of the preceding sentence, but it looked sort of sad without one. Here's what David just
added: (A) The Hard Case Crime paperback tie-in edition of A Walk Among the Tombstones, with the film poster cover. (B) The just-published Chinese edition of Into the Night, the Cornell Woolrich novel I completed and prepared for publication. (C) The double volume of Strange Embrace and 69 Barrow Street, a joint venture of Subterranean Press and Hard Case Crime, published only in hardcover and long out of print—and getting expensive in the aftermarket. (D) Hardcover and paperback copies of Borderline, a very early pseudonymous novel of mine reissued last year by Hard Case. (E) The hardcover first edition of Getting Off, featuring Kit Tolliver, a very naughty young woman.
All of the above are signed, needless to say. And, looking over the list, I'm beginning to think the exclamation point deserves to be there after all.
I'm also ready to give this a rest. Before I go, though, let me give you something free to make up for those sales pitches I just heaved at your wallet. For an NYC guidebook called 38 Hours, I was induced to write a 700-word Bernie Rhodenbarr vignette, "A Burglar's Complaint," and just yesterday I posted it for all to read on my blog. If you subscribe to the blog you've already got it, but if not, well, now's your chance. Their illustration alone is well worth the effort of clicking on the link.
Cheers!
PS: As always, please feel free to forward this to anyone you think might find it of interest. And, if you've received the newsletter in that fashion from a friend and would like your own subscription, that's easily arranged; a blank email to lawbloc@gmail.com with Newsletter in the subject line will get the job done.
LB's Bookstore on eBay
LB's Blog and Website
LB's Facebook Fan Page
Twitter:  @LawrenceBlock