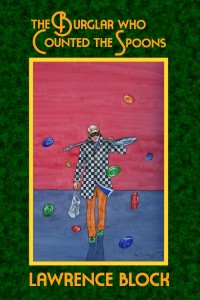 I published The Burglar who Counted the Spoons in 2013 on Christmas Day, and the true first edition was this signed-and-numbered hardcover limited, with Manny Schongut's painting mounted on its gold-stamped dark green leather cover. We had a rush of orders, enough to put the edition in the profit column by publication day. (I love it when that happens.) And we've been selling copies ever since in LB's eBay Bookstore—for $79.99.
BUT we printed way more than we've sold, and they're taking up too much space. We'd like to reduce our stock, and give you an irresistible bargain in the process. From now through November, we're dropping the price to $29.99—with free shipping.
And no, that's not a misprint. At this price you can afford to put a luxury item on your bookshelf and make a lot of friends happy at Christmas. And we'll guarantee to maintain the low price through the end of November.
I announced this offer a couple of hours ago in a newsletter, and the response has been remarkable. I don't think I need to coax you, as this offer speaks for itself, but let me add this taste of the New Math:  With every copy you buy, you're fifty bucks ahead.
Isn't that super? Just think what you can buy with all the money you'll save! (This has been my Frequent Companion's guiding principle over the years in her dealings with Saks Fifth Avenue, and she recommends it without hesitation.)