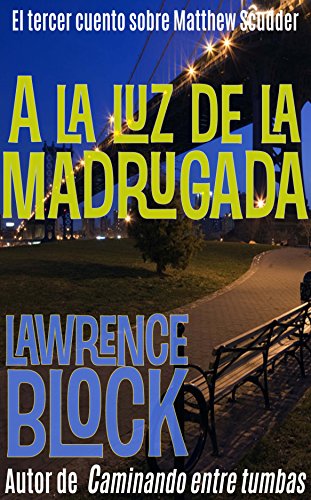 Matthew Scudder nº 3
«Me encanta la serie sobre Matthew Scudder, y me encantan los cuentos.»––Otto Penzler, Los Angeles Times, Los diez libros más deseados del 2011
Order Now!
About the Book
«Me encanta la serie sobre Matthew Scudder, y me encantan los cuentos.»
––Otto Penzler, Los Angeles Times, Los diez libros más deseados del 2011
Lawrence Block ha escrito 17 novelas protagonizadas por Matthew Scudder, las cuales han conquistado corazones de lectores en el mundo entero, y de paso un tropel de trofeos, incluyendo el Premio Edgar Allan Poe (EUA), el Shamus (EUA), el Philip Marlowe (Alemania) y el Halcón Maltés (Japón). Y Matthew Scudder es en gran medida el responsable de los galardones a la carrera artística que le han sido otorgados a Block: el Premio Gran Maestro (Mystery Writers of America), el Premio The Eye (Private Eye Writers of America) y el Puñal de Diamante Cartier (UK Crime Writers Association, Reino Unido).
Pero Scudder es también la estrella en muchos relatos cortos, como lo recuerda Lawrence Block:
«Comencé a escribir acerca de Matthew Scudder a mediados de los años setenta. La primera novela, "Los pecados de los padres", apareció en 1975 y "Una gota de algo fuerte" (la décima séptima y la más reciente) se publicó en el 2011. Con el transcurso de los años, Scudder ha aparecido también en 11 narraciones breves; "A luz de la madrugada", que hiciera su aparición en Playboy en 1984, es la tercera de éstas.
»Pensé que la carrera de Scudder había tocado a su fin con la publicación de la quinta novela, "Ocho millones de maneras de morir". Pero yo le había prometido un cuento a Bob Randisi para una antología sobre detectives privados ("Se encuentra en los ojos") y el cuento resultó ser "A la luz de la madrugada"; con éste, Scudder volvió a sus andadas y de paso se ganó un Premio Edgar Allan Poe y además fue el primero de mis cuentos en aparecer en Playboy.
»Un año más tarde, vi una manera para convertirlo en una narración más larga, añadiendo una segunda trama y agregándole más dimensión al cuento original, y así fue como escribí"Cuando el antro sagrado cierra", la cual ha sido escogida por muchos lectores como su favorita entre las novelas protagonizadas por Scudder. Pero me parece que el cuento aún se mantiene en pie por sí mismo, y espero que te guste.»
Esta edición en e-book de "A la luz de la madrugada" incluye, como un extra, el primer capítulo de la novela de suspense de Lawrence Block, cuya acción ocurre en la Cuba de los años sesenta, "Matando a Castro".