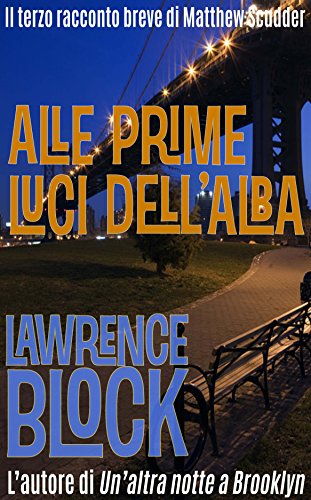 I racconti brevi di Matthew Scudder Vol. 3
"Adoro la serie di Matthew Scudder, e adoro queste storie brevi."--Otto Penzler, Los Angeles Times, I dieci libri più amati del 2011
Order Now!
About the Book
"Adoro la serie di Matthew Scudder, e adoro queste storie brevi."
–Otto Penzler, Los Angeles Times, I dieci libri più amati del 2011
I 17 romanzi di Matthew Scudder hanno conquistato il cuore dei lettori in tutto il mondo, oltre a una collezione di premi, tra i quali: il premio Edgar, il premio Shamus, il premio Philip Marlowe (Germania) e il Falcone Maltese (Giappone). Ed è Matt Scudder responsabile dei premi conferiti a Block come riconoscimento alla sua carriera letteraria: il premio Grand Master (dei Mystery Writers of America), il The Eye (dei Private Eye Writers of America), e il Cartier Diamond Dagger (della Crime Writer Association UK)
Ma Scudder è anche il protagonista di racconti brevi, come ricorda Lawrence Block:
"Cominciai a scrivere storie con Scudder a metà degli anni Settanta. Il primo romanzo, Le colpe dei padri (The Sins of the Fathers), apparve nel 1975, e L'Ottavo Passo (A Drop of the Hard Stuff ), diciassettesimo e ultimo, è stato pubblicato nel 2011. Nel corso degli anni, Scudder è comparso anche in undici brevi racconti. Il primo, Giù dalla finestra (Out the Window), comparve nell'Alfred Hitchcock's Mystery Magazine nel 1977.
"Giù dalla finestra e Una candela per la barbona (A Candle for the Bag Lady) mantennero in vita Scudder per me, dopo che l'editore Dell non aveva venduto in modo soddisfacente i primi tre libri. Non sembrava il caso di provare a interessare un altro editore con una serie che era già stata un insuccesso, ma io non riuscii ad abbandonare Scudder, e scrissi queste due storie brevi per delle riviste. Poi scrissi il quarto romanzo vero e proprio, Una Pista Fredda per Matt (A Stab in the Dark); Don Fine lo pubblicò in Harbor House e Scudder cominciò a fare affari.
"Negli anni, Scudder è stato protagonista anche di 11 storie brevi. "Alle prime luci dell'alba" (By the Dawn's Early Light), comparsa per la prima volta su Playboy nel 1984, è la terza.
"Pensavo che la carriera di Scudder fosse finita con la pubblicazione del quinto romanzo, Eight Million Ways to Die (Otto milioni di modi per morire). Ma avevo promesso a Bob Randisi una storia breve per una raccolta di racconti polizieschi (The Eyes Have it), ed essa fu By the Dawn's Early Light. Questa storia rimise al lavoro Scudder, vinse un premio Edgar Allan Poe, e fu la prima a comparire su Playboy.
"Un anno dopo, vidi il modo di trasformarla in una storia più lunga, aggiungendo una trama secondaria e approfondendo quella originale. Il risultato fu "When the Sacred Ginmill Closes", che molti lettori hanno indicato come il romanzo di Scudder che preferiscono. Ma mi pare che il racconto breve sia ancora valido, e spero che vi piaccia."
Other Books in "Italiano"