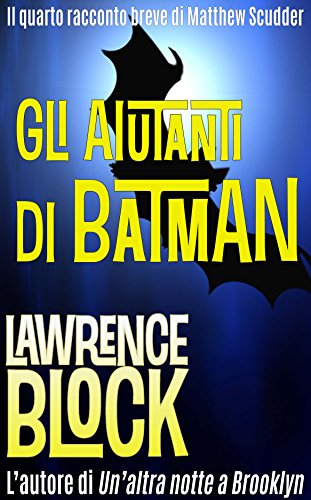 I racconti brevi di Matthew Scudder Vol. 4
"Adoro la serie di Matthew Scudder, e adoro queste storie brevi."--Otto Penzler, Los Angeles Times, I dieci libri più amati del 2011
Order Now!
About the Book
"Adoro la serie di Matthew Scudder, e adoro queste storie brevi."
–Otto Penzler, Los Angeles Times, I dieci libri più amati del 2011
I 17 romanzi di Matthew Scudder hanno conquistato il cuore dei lettori in tutto il mondo, oltre a una collezione di premi, tra i quali: il premio Edgar, il premio Shamus, il premio Philip Marlowe (Germania) e il Falcone Maltese (Giappone). Ed è Matt Scudder responsabile dei premi conferiti a Block come riconoscimento alla sua carriera letteraria: il premio Grand Master (dei Mystery Writers of America), il The Eye (dei Private Eye Writers of America), e il Cartier Diamond Dagger (della Crime Writer Association UK)
Ma Scudder è anche il protagonista di racconti brevi, come ricorda Lawrence Block:
"Cominciai a scrivere storie con Scudder a metà degli anni Settanta. Il primo romanzo, Le colpe dei padri (The Sins of the Fathers), apparve nel 1975, e L'Ottavo Passo (A Drop of the Hard Stuff ), diciassettesimo e ultimo, è stato pubblicato nel 2011. Negli anni, Scudder è stato protagonista anche di 11 storie brevi. "Batman's Helpers", comparsa per la prima volta in Justice for Hire, è la quarta.
"Pensavo che la carriera di Scudder fosse finita con la pubblicazione del quinto romanzo, Eight Million Ways to Die (Otto milioni di modi per morire), finché Bob Randisi mi convinse a scrivere una storia breve per una sua raccolta di racconti polizieschi (The Eyes Have it), Quel racconto, By the Dawn's Early Light, fece miracoli per la carriera di Scudder – e anche per la mia – perciò quando Bob Randisi un paio di anni dopo mi chiese un'altra storia, non potei rifiutarmi.
Un mio amico, Jim Thompson, aveva cambiato professione, passando da un lavoro accademico a uno come investigatore privato. Mi raccontò delle sue esperienze personali con il controllo degli articoli contraffatti venduti per le strade e il suo resoconto, filtrato attraverso la mia fantasia e il punto di vista di Scudder, diede origine a questa storia. Fu pubblicata per la prima volta nell'antologia di Randisi, Justice for Hire."
Other Books in "Italiano"