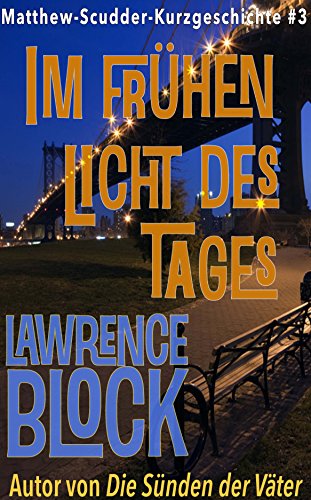 Matthew-Scudder-Kurzgeschichte #3
»Ich liebe die Matthew-Scudder-Reihe und ich liebe diese Kurzgeschichten.«– Otto Penzler, Los Angeles Times, Ten Most Wanted Books of 2011
Order Now!
About the Book
»Ich liebe die Matthew-Scudder-Reihe und ich liebe diese Kurzgeschichten.«
– Otto Penzler, Los Angeles Times, Ten Most Wanted Books of 2011
Lawrence Block konnte mit seinen 17 Matthew-Scudder-Romanen die Herzen von Lesern in der ganzen Welt gewinnen – und auch eine Vielzahl von Literaturpreisen, wie den Edgar Allan Poe Award (Edgar), den Shamus Award, den deutschen Marlowe-Preis und den japanischen Maltese Falcon Award. Und es ist vor allem Matt Scudder, der Block Auszeichnungen für sein Lebenswerk eingebracht hat: Grand Master Award (Mystery Writers of America), The Eye (Private Eye Writers of America) und Cartier Diamond Dagger (UK Crime Writers Association).
Aber Scudder war auch der Star mehrerer Kurzgeschichten, wie Block erklärt:
»Ich begann Mitte der siebziger Jahre damit, über Matthew Scudder zu schreiben. Der erste Roman, ›Die Sünden der Väter‹, erschien 1975, der 17. und bislang letzte Roman der Reihe, ›A Drop of the Hard Stuff‹, wurde 2011 veröffentlicht. Im Laufe der Jahre verfasste ich auch elf Kurzgeschichten mit Scudder. ›Im frühen Licht des Tages‹ ist die dritte von ihnen, sie erschien 1984 im Playboy.
Ich hatte gedacht, dass Scudders Karriere nach der Veröffentlichung des fünften Romans, ›Eight Million Ways to Die‹, zu Ende gegangen war. Aber ich hatte Bob Randisi eine Kurzgeschichte für eine Privatdetektiv-Anthologie versprochen, also schrieb ich ›Im frühen Licht des Tages‹. Die Geschichte brachte Scudder zurück ins Geschäft, gewann einen Edgar Allan Poe Award und war die erste meiner Stories, die im Playboy erschien.
Ein Jahr später sah ich eine Möglichkeit, eine längere Geschichte daraus zu machen. Ich fügte einen zweiten Handlungsstrang hinzu und gab der ursprünglichen Geschichte mehr Tiefe. Das Resultat war ›When the Sacred Ginmill Closes‹, für viele Leser der beste Scudder-Roman. Aber ich denke, dass die Kurzgeschichte auch für sich allein bestehen kann, und hoffe, dass Sie Gefallen an ihr finden werden.«
Other Books in "Deutsche"