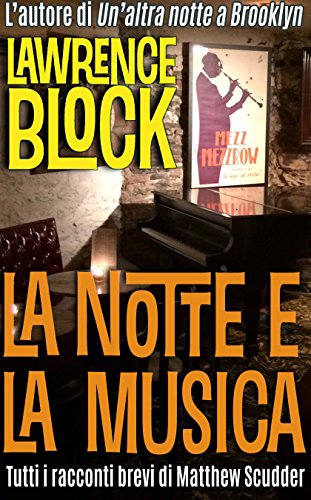 Matthew Scudder Vol. 18
"Adoro la serie di Matthew Scudder e adoro le storie brevi; e questa è la collezione completa delle storie di Scudder. Una delle più belle è Alle prime luci dell'alba, vincitrice del premio Edgar Allan Poe."- Otto Penzler, Los Angeles Times, Ten Most Wanted Books of 2011
Order Now!
About the Book
"Adoro la serie di Matthew Scudder e adoro le storie brevi; e questa è la collezione completa delle storie di Scudder. Una delle più belle è Alle prime luci dell'alba, vincitrice del premio Edgar Allan Poe."
– Otto Penzler, Los Angeles Times, Ten Most Wanted Books of 2011
"La storia che dà il titolo alla raccolta è un pezzo d'atmosfera, brillantemente raccontato, che piacerà a quelli che hanno seguito Scudder nel suo viaggio lungo la vita. E' un raro momento di pura umanità nel mondo di Scudder e serve a fare capire che Scudder è molto di più di un investigatore privato, che la sua storia non si ferma quando non stiamo leggendo di lui."
–Russel McLean, Crime Scene Scotland
"La mia favorita, penso, è la storia che dà il titolo alla raccolta, "La notte e la musica", che vede Matt e sua moglie Elaine parlare e ascoltare musica in vari locali nella loro zona di New York. Questa storia è così elegante ed evocativa che mi ricorda molto alcuni racconti di Irwin Shaw… Sempre in questo stile è la storia finale del libro, scritta recentemente e dall'adeguato titolo de "L'ultima notte al Grogan"; anche questo non è un giallo, o un poliziesco. Non so se Block scriverà ancora qualcosa con Scudder, e forse non lo sa dire nemmeno lui, ma "L'ultima notte al Grogan" ha un tono meravigliosamente elegiaco, e se sarà il racconto di addio della serie, è un bell'addio."
–James Reasoner, Rough Edges
I 17 romanzi di Lawrence Block con Matthew Scudder hanno conquistato il cuore dei lettori di tutto il mondo – oltre a una sfilza di premi, tra cui l'Edgar Allan Poe, lo Shamus, il Philip Marlowe (Germania), e il Falcone Maltese (Giappone). Ed è Matt Scudder il principale responsabile per i riconoscimenti che Block ha avuto nel corso della vita: Grand Master (dei Mystery Writers of America), The Eye (della Private Eye Writers of America), e il Cartier Diamond Dagger (della Crime Writers Association britannica).
Ma Scudder è apparso anche in racconti brevi, che sono tutti raccolti qua: da un paio di novellette della fine degli anni Settanta (Giù dalla finestra e Una candela per la barbona), e poi Alle prime luci dell'alba (premio Edgar), Il misericordioso angelo della morte (premio Shamus) fino ad arrivare a L'ultima notte al Grogan, una storia commovente ed elegiaca mai pubblicata prima. Sono stati i racconti brevi che hanno tenuta viva la serie in varie occasioni, quando la produzione dei romanzi si era interrotta, e che hanno portato Scudder verso nuove strade, mostrandoci una parte del suo mondo non ancora esplorata.
Alcune di queste storie sono comparse in riviste come la Alfred Hitchcock's Magazine, la Ellery Queen's Magazine e Playboy. Il breve cameo che dà il titolo alla raccolta, La notte e la musica, fu scritta per il programma di un festival jazz a New York City; un altro, Mick Ballou guarda lo schermo nero, era comparso solo come testo di un poster a tiratura limitata. E il racconto finale, che vede Matt e Elaine a un tavolo con Mick e Kristin Ballou in un locale ormai chiuso nella zona di Hell's Kitchen, fa la sua prima comparsa in questo volume.
Vari racconti si riferiscono ad avvenimenti del passato, e in essi Scudder ricorda casi della sua vita precedente come poliziotto: prima come agente di pattuglia in coppia con il leggendario Vince Mahaffey, poi come investigatore della polizia di New York che conduce una doppia vita. Ne In cerca di David, Matt ed Elaine sono in vacanza a Firenze, dove si imbattono un uomo che Matt aveva arrestato decenni prima. Ora finalmente Matt conosce il motivo di quel brutale omicidio.
Accanto alle undici storie e racconti brevi, La notte e la musica comprende un elenco dei diciassette romanzi in ordine cronologico, e una nota dell'Autore che spiega l'origine e i dettagli bibliografici di ognuna di esse.
Dulcis in fundo, Brian Koppelman, famoso sceneggiatore e regista (Solitary Man, Ocean's Thirteen, Il giocatore), nonché grande fan di Scudder, ha contribuito con una introd
Other Books in "Italiano"