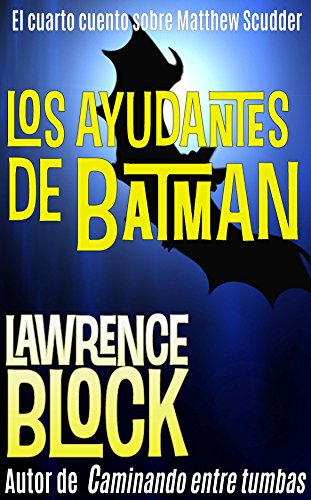 Los cuentos de Matthew Scudder nº 4
«Me encanta la serie sobre Matthew Scudder, y me encantan los cuentos.»––Otto Penzler, Los Angeles Times, Los diez libros más deseados del 2011
Order Now!
About the Book
«Me encanta la serie sobre Matthew Scudder, y me encantan los cuentos.»
––Otto Penzler, Los Angeles Times, Los diez libros más deseados del 2011
Lawrence Block ha escrito 17 novelas protagonizadas por Matthew Scudder, las cuales han conquistado corazones de lectores en el mundo entero, y de paso un tropel de trofeos, incluyendo el Premio Edgar Allan Poe (EUA), el Shamus (EUA), el Philip Marlowe (Alemania) y el Halcón Maltés (Japón). Y Matthew Scudder es en gran medida el responsable de los galardones a la carrera artística que le han sido otorgados a Block: el Premio Gran Maestro (Mystery Writers of America), el Premio The Eye (Private Eye Writers of America) y el Puñal de Diamante Cartier (UK Crime Writers Association, Reino Unido).
Pero Scudder es también la estrella en muchos relatos cortos, como lo recuerda Lawrence Block:
«Comencé a escribir acerca de Matthew Scudder a mediados de los años setenta. La primera novela, "Los pecados de los padres", apareció en 1975 y "Una gota de algo fuerte" (la 17a y la más reciente) se publicó en el 2011. Con el transcurso de los años, Scudder ha aparecido también en 11 narraciones breves; "Los ayudantes de Batman", que hiciera su aparición en "Justice for Hire" en 1984, es la cuarta de éstas.
»Pensé que la carrera de Scudder había tocado a su fin con la publicación de la quinta novela, "Ocho millones de maneras de morir". Pero Robert J. Randisi me convenció que escribiera un cuento para su antología,"Se encuentra en los ojos". Ese cuento, "A la luz de la madrugada", hizo maravillas para la carrera de Scudder y también para la mía, y cuando dos años más tarde Bob Randisi volvió a pedirme otro cuento, no pude negarme.
»Un amigo mío, un tal Jim Thompson, había cambiado de profesión, pasando del mundo académico al de la investigación privada. Él me contó acerca de sus experiencias personales imponiendo el cumplimiento de las leyes de copyright en las calles, y su relato, filtrado a través de mi propia imaginación y contado desde la perspectiva de Matthew Scudder, resultó en este cuento. Apareció por primera vez en la antología de Randisi, "Justice for Hire." »
Esta edición en e-book de "Los ayudantes de Batman" incluye, como un extra, el primer capítulo de la novela de suspense de Lawrence Block, "El hombre peligroso".