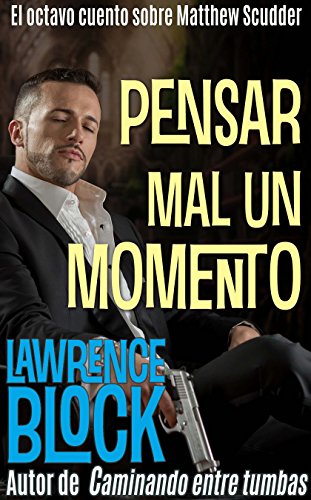 Los cuentos sobre Matthew Scudder nº 8
«Me encanta la serie sobre Matthew Scudder, y me encantan los cuentos.»––Otto Penzler, Los Angeles Times, Los diez libros más deseados del 2011
Order Now!
About the Book
«Me encanta la serie sobre Matthew Scudder, y me encantan los cuentos.»
––Otto Penzler, Los Angeles Times, Los diez libros más deseados del 2011
Lawrence Block ha escrito 17 novelas protagonizadas por Matthew Scudder, las cuales han conquistado corazones de lectores en el mundo entero, y de paso un tropel de trofeos, incluyendo el Premio Edgar Allan Poe (EUA), el Shamus (EUA), el Philip Marlowe (Alemania) y el Halcón Maltés (Japón). Y Matthew Scudder es en gran medida el responsable de los galardones a la carrera artística que le han sido otorgados a Block: el Premio Gran Maestro (Mystery Writers of America), el Premio The Eye (Private Eye Writers of America) y el Puñal de Diamante Cartier (UK Crime Writers Association, Reino Unido).
Pero Scudder es también la estrella en muchos relatos cortos, como lo recuerda Lawrence Block:
«Comencé a escribir acerca de Matthew Scudder a mediados de los años setenta. La primera novela, "Los pecados de los padres", apareció en 1975 y "Una gota de algo fuerte" (la 17a y la más reciente) en 2011. Con el transcurso de los años, Scudder ha aparecido también en 11 narraciones breves. Una de éstas es "Pensar mal un momento", la cual apareció por primera vez en EQMM en el 2002.
»Los cuentos me han brindado la oportunidad de echar una mirada retrospectiva sobre la vida de Scudder antes de la primera novela, cuando él era aún miembro del Departamento de Policía de Nueva York. En "Pensar mal un momento" la lámpara del escenario se enfoca sobre Vince Mahaffey, el veterano policía en ropa de paisano que fuera compañero de Matt cuando éste empezaba a trabajar en Brooklyn. "Me pusieron con él para que me enseñara las movidas", recuerda Matt, "y me enseñó muchas cosas, incluso algunas que yo hubiera preferido no aprender." Varias de las novelas mencionan a Mahaffey, pero este cuento nos permite observarlo más de cerca.»