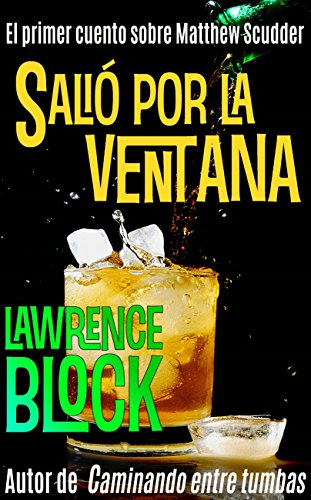 Los cuentos sobre Matthew Scudder nº 1
«Me encanta la serie sobre Matthew Scudder, y me encantan los cuentos.»––Otto Penzler, Los Angeles Times, Los diez libros más deseados del 2011
Order Now!
About the Book
«Me encanta la serie sobre Matthew Scudder, y me encantan los cuentos.»
––Otto Penzler, Los Angeles Times, Los diez libros más deseados del 2011
Lawrence Block ha escrito 17 novelas protagonizadas por Matthew Scudder, las cuales han conquistado corazones de lectores en el mundo entero, y de paso un tropel de trofeos, incluyendo el Premio Edgar Allan Poe (EUA), el Shamus (EUA), el Philip Marlowe (Alemania) y el Halcón Maltés (Japón). Y Matthew Scudder es en gran medida el responsable de los galardones a la carrera artística que le han sido otorgados a Block: el Premio Gran Maestro (Mystery Writers of America), el Premio The Eye (Private Eye Writers of America) y el Puñal de Diamante Cartier (UK Crime Writers Association, Reino Unido).
Pero Scudder es también la estrella en muchos relatos cortos, como lo recuerda Lawrence Block:
«Comencé a escribir acerca de Matthew Scudder a mediados de los años setenta. La primera novela, "Los pecados de los padres", apareció en 1975 y "Una gota de algo fuerte" (la décima séptima) se publicó en el 2011. Con el transcurso de los años, Scudder ha aparecido también en 11 narraciones breves; "Salió por la ventana", que hizo su primera aparición en la Alfred Hitchcock's Mystery Magazine, es el primero de estos cuentos.
»"Salió por la ventana" y "Una vela para la vagabunda" mantuvieron vivo a Scudder para mí, después del poco éxito obtenido por Dell en sus intentos de vender los primeros tres libros. Al parecer no tenía mucho caso tratar de interesar a otra editorial en una serie que ya había fracasado, pero yo no era capaz de abandonar a Scudder, así que escribí los dos primeros cuentos para publicarlos en revistas. Luego escribí la cuarta novela, "Una puñalada en la oscuridad", y Don Fine la publicó en la editorial Arbor House, y con eso Scudder volvió a sus andanzas. Desde entonces sigue andando, con energía y éxito, y la serie ha alcanzado un público nuevo desde que Liam Nelson apareció en el papel de Matt Scudder en el film "Caminando entre tumbas" (conocido también como "Un paseo por las tumbas").»
Esta edición en e-book de "Salió por la ventana" incluye, como un extra, el primer capítulo de la novela de suspense de Lawrence Block, "El hombre peligroso". Como en el caso de "Salió por la ventana", la traducción al español es la excelente obra de Ana y Enriqueta Carrington.