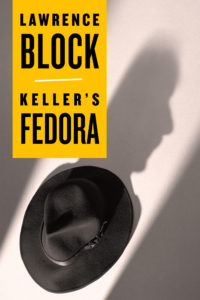 Well, it took a while, but I'm delighted to tell you that my brand-new Keller novella, Keller's Fedora, is on sale right now at all Amazon sites. It's a Kindle Single, which assures it a heavy promotional push from the Amazonians. But if you click the link and order now, I guarantee they'll have a copy for you.
But do I see some hands raised out there? Ma'am, I suppose you'd like to know about the process involved in plot development, and how this particular episode fits into the overall arc of the character's growth. By all means, ask your question.
How much does it cost?
See, I recognized you right away as an artistic spirit. The price is $2.99. (If you're a Kindle Unlimited subscriber, you can borrow it for free and keep it as long as you like.)
It must be short if it's only $2.99. I'll probably read it in, like, seven minutes.
It's 24,000 words long, which makes it a third the length of the average Keller book. Not even Harriet Klausner, in her prime and stoked on espresso, could zip through Keller's Fedora in seven minutes.
What's the time frame? Is it a flashback, set during Keller's days as an Urban Lonely Guy in Manhattan?
No, it's present time, and he's living in New Orleans with his wife and daughter. Buying and selling stamps, rehabbing houses and flipping them. Leading a quiet and blameless life.
Then what's he doing taking assignments from Dot? I thought the man was retired.
Lady, I thought I was retired. Turns out we were both misinformed. And this particular assignment is a special challenge for Keller. He knows what he's supposed to do, but he doesn't know whom he's supposed to do it to. Before he can carry out his assignment, he has to make like a private detective.
A private detective? Keller as Sam Spade? Oh, that's where the fedora comes from!
Actually, the fedora comes from Peller & Smythe, Men's Clothiers, located on Canal Street at the edge of New Orleans' Vieux Carre. But that's why he buys it, and why he's wearing it when he boards that train to Chicago. And I'll tell you something, he looks damn good in it.
Sorry—no more questions. I'm in a hurry to spread the news. Keller's back, and a mouse-click or two will make him yours.
Enjoy!
PS: As always, please feel free to forward this to anyone you think might find it of interest. And, if you've received the newsletter in that fashion from a friend and would like your own subscription, that's easily arranged; a blank email to lawbloc@gmail.com with Newsletter in the subject line will get the job done.
LB's Bookstore on eBay
LB's Blog and Website
LB's Facebook Fan Page
Twitter:  @LawrenceBlock