Here's a newsletter that went out to subscribers this afternoon:
I know, I know.
It's been a while since you've heard from me. I try to strike a certain balance, neither overloading your mailbox ("Damn, another of these? I haven't read the last three!") and appearing so infrequently that you forget who I am. And I'd rather not write until I have something to tell you.
(Which reminds me. Some years ago I'd promised Otto Penzler a baseball story for an anthology. I wrote one, "Almost Perfect," and when I gave Alice Turner a first look, she snapped it up for Playboy. I called Otto and explained the situation. I'd like to write another story for you, I said, but I don't have an idea. Long pause. "Well," he said, "that's never stopped you in the past." I couldn't argue with that, and wrote "Keller's Designated Hitter.")
So? Have you got anything to say this time around?
A couple of things, as it happens. Remember Ehrengraf, the dapper little lawyer whose clients are always innocent? Well, Defender of the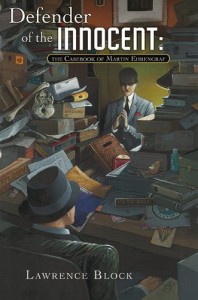 Innocent: The Casebook of Martin Ehrengraf is out now from Subterranean Press. It contains all 12 Ehrengraf adventures, from the very first, published in EQMM in February '78, to a pair of new stories that make their first appearance here. If you pre-ordered a copy, you've seen for yourself what an attractive and well-made volume it is. If you haven't, well, please be mindful of Subterranean's tendency to sell out in a hurry—and never go back to press. I can't say that this will happen with DOTI, but I can't say that it won't, either.
But I can get an autographed copy from you, right?
Wrong. We're not offering the book in LB's Bookstore, not wishing to compete with the many booksellers, online and offline, who have the book in stock. If it's important to you to have a signed copy, these two sellers have a good supply: The Mysterious Bookshop in New York and VJ Books in Tualatin OR.
Hardcovers are great on the shelf, but I've come to prefer eReading.
You're not alone. The DOTI ebook is selling briskly on all platforms—Kindle, Nook, and Smashwords. Ah, I see another hand, and I bet I know what you're going to ask about.
We've got you covered. Don Sobczak voices Ehrengraf brilliantly, and the audiobook's been getting good reviews on Amazon and Audible. (And you ear-readers will want to check out the three other books we've self-published in audio, Borderline, Thirty, and Warm & Willing. Mike Dennis's Borderline is an acknowledged triumph, and Emily Beresford, whose renditions of Thirty and W&W have been winning hearts and minds and ears, is currently at work on another Jill Emerson title, Enough of Sorrow.)
Paperback?
Not for a while. We self-published the ebook and audio—note the LB logo in the upper left corner—and we'll bring out a handsome trade paperback a few months down the line. Be assured that I'll let you know when it's available.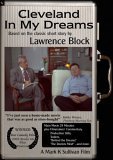 Anything else? Are you gonna try to sell us Ehrengraf Tote Bags? T-shirts?
No, but some "Get Out Of Jail Free" cards might be appropriate. Remind me to check with our marketing people. What's next, however, is an oddment I came across today on IMDb, concerning a short film made in 2005 from a short story of mine called "Cleveland In My Dreams." It's got a slew of very strong reviews, and I don't suppose every last one of them could be from relatives of filmmaker Mark K Sullivan. I think there's a way to download it from the site, though I haven't figured it out yet myself. Alternatively, we still have a handful of signed DVDs left in LB's eBay Bookstore, yours while they last at $14.99. Or you can grab the story for your Kindle for $2.99.
That's pretty reasonable, $2.99. I wish everything was $2.99.
Even dollar bills? Never mind, I get it. And I'm sure you'll be thrilled to learn that I've just slashed the Kindle-price of 17 of my titles from $4.99 to $2.99.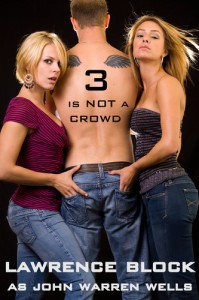 The books in question are those I wrote as John Warren Wells. They deal with sexual behavior, and are presented in interview and case-history form. Some of the cases are indeed the product of interviews, correspondence, and personal experience; others owe a bit more to imagination. You may read them as reportage or fiction, as you prefer—or not at all, for that matter. JWW is hardly everybody's cup of tea, but neither is a six-ounce pour of Lapsang Souchong. The new low price makes it easy for you to conduct your own taste-test—and, if you like what you get, to scoop up more at the same low cost.
The $2.99 price applies to all John Warren Wells titles at Kindle. (11 of the 17 are exclusive to Kindle, thus available for borrowing by Kindle Unlimited members.)
What about the JWW ebooks you're selling on Nook? Are they $2.99 also?
Not for the time being. The new price is an experiment; if sales go up, I'll peg the books at $2.99 all across the board, including Nook and Smashwords. If not, they'll stay as they are on those platforms, and the Kindle books will pumpkin back up to $4.99.
And what's next? John Warren Wells on audio?
Actually, that's under consideration. Hard to know whether it would work, but it's not out of the question.
But as for what's next, well, that'll have to wait for the next newsletter. David's assembling items for an eBay auction, including some rarities and an original manuscript or two. He tells me we ought to drop a batch of prices at LB's eBay Bookstore while we're at it, to encourage purchases for holiday gift-giving. I've found it easier to let him do what he wants than to try to talk him out of it, so sometime next week he'll clutter your In Box with yet another newsletter.
So brace yourselves…
Cheers,
PS: As always, please feel free to forward this to anyone you think might find it of interest. And, if you've received the newsletter in that fashion from a friend and would like your own subscription, that's easily arranged; a blank email to lawbloc@gmail.com with Newsletter in the subject line will get the job done.
LB's Bookstore on eBay
LB's Blog and Website
LB's Facebook Fan Page
Twitter:  @LawrenceBlock