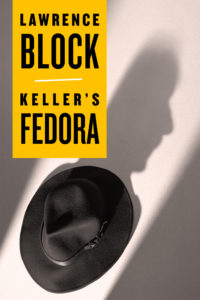 A while back I announced that a new Keller novella, "Keller's Fedora," would debut as a Kindle Single on May 10.
Well, like Bogart in Casablanca, I was misinformed. Amazon's copy-editing process took a little longer than expected, and their cover artist took time to prepare four prospective covers, and, with the regularity of the tides, May 10 came and went.
This would barely merit comment, but for the surprising number of folks who've called the absence of Keller's Fedora to my attention. I must say I'm pleased so many of you are so eager for our favorite hit man's latest adventure, and can but apologize for his failure to appear on time. Another couple of days, I think, will see the matter to a satisfactory conclusion—and I'll post and blog and tweet and otherwise make a big fuss as soon as it's on Amazon's virtual shelves.
Meanwhile, I thought y'all might welcome look at the cover. We had four to choose among, all of them more than acceptable, and this was everybody's first choice. Here it is, for your viewing pleasure—and soon there'll be a brand-new Keller tale to go with it.