You know, we're just days away from the publication of In Sunlight or in Shadow, and I have to admit I'm getting excited. The early buzz has led to heartening reviews, along with a slew of Best Christmas Gift Book recommendations, and Amazon's named it a Book of the Month for December. "An anthology of conspicuous brilliance," Jeff Simon called it in the Buffalo News, and it is limited space rather than modesty that keeps me from quoting more reviews. (Click the link and see for yourself.)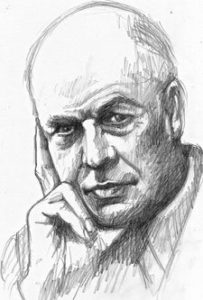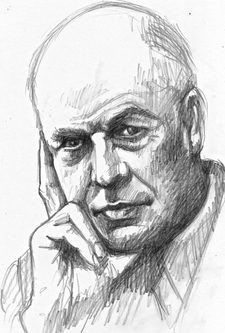 I'd love to take the credit, but that's better assigned to the remarkable writers who've supplied ISOIS's contents, and to the chap on the right, the extraordinary Edward Hopper, whose every canvas somehow contains a story waiting to be told. This drawing is the work of Jonathan Santlofer, who wrote "Night Windows" for ISOIS, and whose recent blog post discusses the book and includes several more of Jonathan's Hopper-based drawings. Go ahead, you can check it out now. I'll wait.
Wow. How can Jonathan write so superbly…and draw so well?
Beats me, but if you come to either of our events next week you can ask him yourself:
Monday, December 5, we'll be launching In Sunlight or in Shadow at the Whitney Museum at 99 Gansevoort Street in Greenwich Village. The Whitney has the world's finest collection of Hopper's work, and is home to several of the paintings reproduced in ISOIS. I'll be there, along with Megan Abbott, Lee Child, Nicholas Christopher, Gail Levin, Jill Block, Jonathan Santlofer, and Warren Moore.
Now that I've told you that, I have to add this, newly posted on the museum's website: "Please note: This event has reached registration capacity. A limited number of standby tickets may be available at the door on a first-come, first-served basis. The standby line will open one hour prior to the program's start time." Start time for the program is 7pm, so I guess you'd need to line up at 6.
Tuesday, December 6, we'll be at the Mysterious Bookshop at 58 Warren Street, NY NY 10007. We'll mix and mingle starting at 6:30, with the program commencing at 7, and the cast will be slightly different: Lee Child, Gail Levin, Joyce Carol Oates, Jill Block, Warren Moore, and Jonathan Santlofer—with one or two other contributors possibly on tap for a surprise appearance. You don't need to pre-register, or worry about getting in—although we do expect a crowd.
Well, I'm worried about getting in. I live in Lost Elephant, Montana.
How the hell did you manage to lose an elephant? Never mind. I'm sure life there has its compensations. I'm aware, though, that most of y'all can't get to the Whitney or the Mysterious, but you can certainly buy the book—and get a copy signed by all the attending contributors. Best way to manage this is to phone the bookshop at 212-587-1011 and have them set aside a book for you. (Or several books, so you can put a checkmark next to a batch of names on your Christmas list.) And may I suggest you do this sooner rather than later? In fact, if you want to make the call right now, that's cool. I'll wait.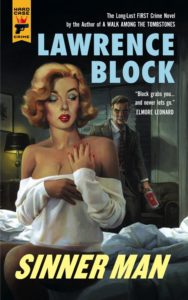 Done! And while I was at it I ordered a copy of Sinner Man, and they said you'd be willing to inscribe it to me personally. You didn't even mention it in this newsletter…
I thought I'd limit myself to In Sunlight or in Shadow, but that's okay. I'm not half chuffed about Sinner Man, which has been getting more reviewer attention 50+ years after I wrote it than most of the books I published in the interim.
To sum up: Mysterious Bookshop will have signed first edition copies of both books, ISOIS and Sinner Man—but their supply's not inexhaustible, so I suggest a phone order as soon as possible.
OTOH, if you don't care about signatures, you can lock in a very favorable pre-publication price for In Sunlight or in Shadow. But you've only got a couple of days to do that. Amazon's price may or may not go up come publication day, but why take the chance?
Time to close, and I'll do so by saying I've been uncommonly busy in these pre-publication days. Yesterday I was on Joy on Paper, PatZi Gil's marvelous radio program, along with Justin Scott, Jonathan Santlofer, and Warren Moore; it'll be archived in due course on her website, at which time I'll get to hear it myself. (It was all done by phone, and I was only connected for my segment.) Monday morning I'll be at the BBC's New York studio with Lee Child and Megan Abbott, to tape a program for Radio Four. And Iris Blasi, resident Publicity Goddess at Pegasus Books, has no end of other treats lined up for me.
Incidentally, if you'd like to book an interview, in print or over the airwaves, Iris is the person who can make this happen. Her email: iris@pegasusbooks.us.
I guess that says it all, and I'm eager to get this epistle on its way, so…Oh dear. I see a hand. Is there a problem?
What happened to the December 2 event at Hopper House in Nyack?
Alas, it was canceled late in the game; The good folks at Hopper House had scheduling problems, and that was the end of that. I blogged and tweeted and Facebooked about this a few days ago, fearful that someone would make the trip to Nyack in error—and have since decided that wouldn't be the worst thing in the world, as you'd still be likely to have a good time. You'd just have to have it without ISOIS or its authors.
Let me close with thanks to all of y'all—for having been so receptive to my work. I haven't had room to say anything about our self-publishing efforts with audiobooks and translations, but it's all kept me busier than I ever expected to be at this stage of my life. And now, with the first crime novel I ever wrote getting such strong reviews and sales, and an anthology that was a true labor of love already greenlighted for a second printing—well, um, thanks!