The day before yesterday we launched In Sunlight or in Shadow to a capacity crowd at the Whitney Museum, home of the world's most extensive collection of Edward Hopper's work. And yesterday, the book's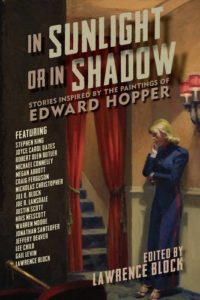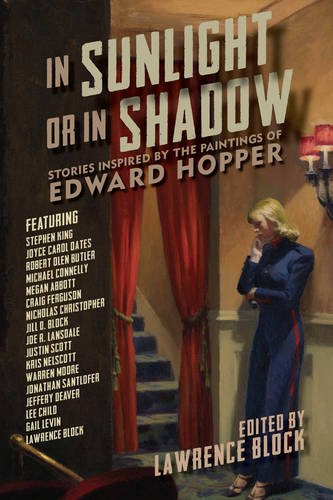 official release date, saw eight of the book's contributors chatting and reading at the Mysterious Bookshop, where every copy in the store got signed and sold. Pegasus Books has already ordered a second printing, even as the book's beginning to turn up on Best Books for Holiday Giving lists.

I'm confident there'll be books to go around, but it nevertheless seems like a good idea to order sooner rather than later. You should be able to find ISOIS at your local bookstore; I know you can find it at Amazon, where they're still offering the $25.95 book at the pre-order price of $19.70. A word to the wise—and that would be you, right?
But for now here's a freebie, my introduction to the volume. Just to whet your appetite…
Edward Hopper was born in Upper Nyack, New York, on July 22, 1882, and died in his studio near Washington Square in New York City on May 15, 1967. The life that filled those years is an interesting one, but it's not up to me to recount it here; for that I'd steer you to Edward Hopper: An Intimate Biography, by Gail Levin.
(Gail, who also edited Hopper's catalogue raisonné, is one of our contributors. Her offering, The Preacher Collects, renders as fiction an extraordinary little-known episode toward the end of the artist's life, of which she has firsthand knowledge.)
But I digress, and probably not for the last time. Let me say a little about how the idea for this volume came about, and why such an illustrious list of contributors signed on for it.
Over the years I've written a lot about writing, and about the generation of ideas, so you'd think I'd be able to tell you the source of this particular idea. But I can't. It was just there, premise and title and all, and without overthinking it I put together an A-list of the writers I'd most like to invite to the party.
Almost all of them said they'd love to come.
Not out of friendship (although they're all friends of mine). Not for lack of other things to do, or because they hungered for the pittance I was able to offer. The attraction was Edward Hopper. They all loved and responded to his work, and in a very writerly way.
A strong positive response to Hopper's paintings is by no means uncommon, in America and throughout the world. But I've come to believe that it's singularly strong among readers and writers, that Hopper's work resonates profoundly with those of us who care deeply for stories. Whether we delight in being told them or in telling them ourselves, we tend to be Edward Hopper fans.
And it's not because of the stories his paintings tell.
Hopper was dismayed on those occasions when his work was dismissed as illustration. No less so than any Abstract Expressionist, his concern was with shape and color and light, not with meaning or narrative.
Hopper was neither an illustrator nor a narrative painter. His paintings don't tell stories. What they do is suggest—powerfully, irresistibly—that there are stories within them, waiting to be told. He shows us a moment in time, arrayed on a canvas; there's clearly a past and a future, but it's our task to find it for ourselves.
Our contributors have done just that, and I'm gobsmacked by what they've provided. Thematic anthologies tend to generate stories that have rather too much in common with one another, and it's often advisable to dip into them from time to time rather than read one story after another.
But that's not the case here. The stories are in various genres, or no genre at all. Some of them spring directly from the canvas, making a story to fit the chosen painting. Others rebound at an oblique angle from the canvas, telling the story it somehow triggered. As far as I can make out, these stories have only two common denominators—their individual excellence and their source in Edward Hopper.
I think you'll enjoy them. And, while you're at it, you'll get to look at some pretty pictures.
Including "Cape Cod Morning," our frontispiece painting, for which you'll note there is no corresponding story. And thereby hangs—or doesn't hang—a tale.
"Cape Cod Morning" was the selection of a prominent writer and Hopper enthusiast who accepted an invitation to the anthology and subsequently found himself unable to deliver a story. These things happen, and no blame attaches when they do.
But it left us with a painting. We'd already chased down the requisite permissi0n for "Cape Cod Morning," and had tucked the high-res jpeg in the folder of Our Man at Pegasus—who pointed out, helpfully enough, that it seems to be unaccompanied by a story.
I recounted the circumstances of our having it in hand. "Fine," said Our Man. "It's a beautiful painting, and we can use it as a frontispiece."
"Ah," I said. "But there's no story to go with it."
"So? Let them write their own."
And so, Gentle Reader, we've provided you with an eighteenth painting, and isn't it a compelling one? Have a look at it, take it in. There's a story in it, don't you think? A story just waiting to be told…
Feel free to tell it. But, um, don't tell it to me. I'm outta here.
But not without jotting down a few words of thanks. To Edward Hopper, of course, and to the book's contributors; without his paintings and their stories, all we'd have is some blank pages and a title.
To Shannah Ehrhardt Clarke, who chased down and secured the artwork and the requisite permission to use it, and who performed this thankless task efficiently, resourcefully, and with unquenchable good humor.
To Danny Baror, my agent and friend, whose faith in and enthusiasm for this project never wavered.
To Claiborne Hancock of Pegasus Books, who was quick to see thebook's potential, and who—with Iris Blasi and Maria Fernandez—has been its passionate supporter throughout.
And, finally, to my wife, Lynne, who has been my passionate supporter for thirty-some years, and who knows just when to say, "You know, you've been at that computer forever. You must be exhausted. Why don't you walk over to the Whitney and look at some pictures?"
~Lawrence Block