When you're a burglar, life can be hard…
…and sooner or later you're going to need a cover that's every bit as hard, hard enough to shield you from the slings and arrows of outraged householders. Consider Bernie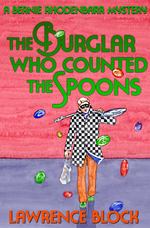 Rhodenbarr, whose latest adventure gives him all sorts of grief—enlivened, admittedly, by some sparkling conversations with Carolyn Kaiser, some amazing Taiwanese food from Two Guys From Taichung, and an adventure or two with a young woman…or two. (And if you follow in his wake, you'll learn a lot about American Colonial Silver and Button Gwinnett and A Visit From St. Nicholas and F. Scott Fitzgerald and—oh, never mind.)
I published THE BURGLAR WHO COUNTED THE SPOONS on Christmas Day in 2013, and the reception has been heartening. I brought it out as an ebook, available exclusively on Amazon, and as a trade paperback, with a cover by Emanuel Schongut, the very man who made Bernie visible on the very first books in the series, published in the 70s by Random House. (And Manny's beautiful painting also appears on the leather-bound signed-&-numbered limited edition, available from LB's eBay Bookstore.)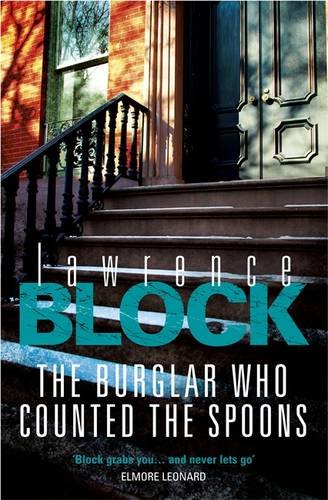 In the UK, my publishers at Orion brought out both a beautiful hardcover edition and an ebook, with a paperback edition coming in the spring.
So what's been missing?
A hardcover trade edition for the US, that's what. Bill Schafer, the intrepid publisher of the indispensable Subterranean Press, has long been a fan of Bernie's, and has a special fondness for SPOONS. (He liked it so much he plugged our Limited Edition in his own newsletter, and took orders for it.) Back in July, when I was holed up in Philadelphia writing a new book (of which more later), Bill got in touch and called this omission to my attention. A bunch of readers, he said, would like to have a US hardcover on their shelves, and so would a lot of librarians, and he figured he could bring out a book of which we'd both be proud.
And, really, how could I be otherwise? I've been unequivocally delighted with every book of mine Subterranean has issued over the years. So I said yes quickly, before he could change his mind, and I'm now delighted to report that you can pre-order The Burglar Who Counted the Spoons right now.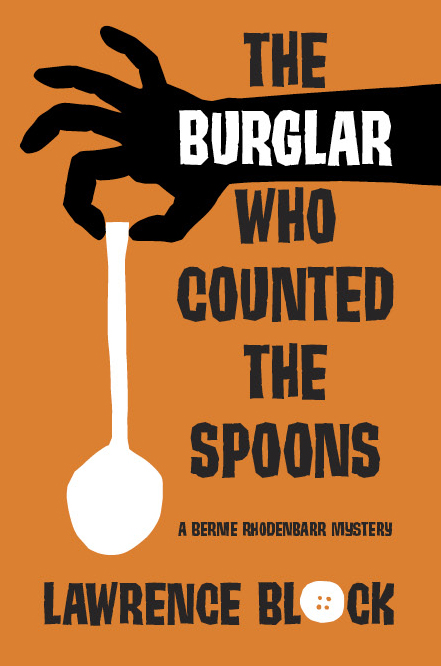 (If you type "Lawrence Block" into their site search box, you'll find two titles of mine currently available—SPOONS and DEFENDER OF THE INNOCENT—along with eight other titles of mine that SubPress published over the years, in trade and limited editions, all of which have long since sold out and are only to be found in the aftermarket. This always happens with their editions. They very rarely go back for a second printing, and when a book of theirs is gone, it's gone—and can only be had at a premium. Will this happen with SPOONS and DEFENDER? Yes, probably. So this constitutes A Word To The Wise—and to you too, Arnold.)
Jeff Wong's dust jacket is a complete departure from both Manny's painting for the paperback and the Brooklyn brownstone steps that grace Orion's edition—and I find it quite elegant in its simplicity. The book around which it will be wrapped will be the high-quality printing and production that is Subterranean's hallmark. I'll tell you, if I didn't know I'd be getting author copies, I'd run out and pre-order this one myself—and I can only urge you to go now and do likewise.
Now let me see. There must have been something else…
Oh, right.
Sometime soon—and we don't yet know the publication date, and aren't yet taking pre-orders—I'll be self-publishing THE CRIME OF OUR LIVES. It's a collection of the various pieces of nonfiction I've perpetrated over the years, all of it touching upon the genre of crime fiction. Keying things off is My Life in Crime, a personal overview of the field I wrote for American Heritage 20+ years ago. My Mystery Scene columns are reprinted here, with a few cuts dictated by MS's space requirements now restored. Also included are various articles and appreciations and intros of various books and writers, some of whom you'll know (duh, Chandler and Hammett) and some that may be new to you (People Like Us, by Edward Anderson). It should be ready a couple of months from now—don't worry, I'll contrive to let you know when—and in three formats: ebook, trade paperback, and trade hardcover. (And I expect to publish an audio edition as well, and will probably handle the narration myself, shy and self-effacing fellow that I am.)
Oh, yeah. Speaking of audio…
As you may know, I've been publishing audio editions of some of my titles hitherto unavailable in that format. These include Borderline, narrated by The Man With the Noir Voice, Mike Dennis; two Jill Emerson titles, Thirty and Warm & Willing, both expertly voiced by Emily Beresford; and Defender of the Innocent, the Subterranean Press Ehrengraf collection, brought to life by Don Sobczak.
Well, two more titles just are their way onto the shelves at Audible, Amazon, and iTunes. One is Enough of Sorrow, and Emily sent me this message along when her work was done: "Hi Larry, I'm always so sad when I finish your books because I am amazed at how incredibly you write from a female perspective. Pure magic! Thanks so much for choosing me to be the voice of your ladies. If you decide to put any more of Jill's books into audio, I would be honored to work for you again."
That can't happen, as all of Jill's work is now audioVailable, but I've another book or two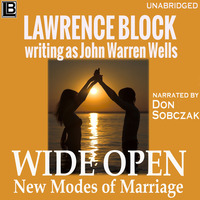 that might call for a female voice, including the first book I ever wrote, published by Crest with the title Strange Are the Ways of Love and the pen name Lesley Evans. (As neither the title nor the pen name were my idea, I might reissue the book with a new title, and Jill's name on it. I could even try to reconstruct the chapter that some ninny at Crest persuaded me to cut. That last part sounds a lot like work, and I hate work, but we'll see.)
Meanwhile, Don and I decided to roll the dice and find out if audiobook fans would cotton to the works of John Warren Wells. Wide Open: New Modes of Marriage went on sale just days ago, so the jury's not in yet. Why don't you listen to a sample and see if it draws you in? If sales indicate a demand, we'll do some more. As you can see, the good Mr. Wells has quite a backlist.
Voulez-vous coucher avec moi? Non? Eh bien, voulez-vous lire mon livre?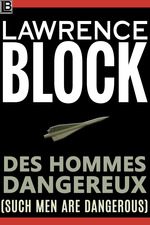 If you can't make sense of that, you won't be hugely interested to learn that an early book of mine, Such Men Are Dangerous, is now eVailable in a brand-new French translation by Sara Sugihara. I've been very well published in France over the years—by Calmann-Levy, Seuil, and Gallimard, primarily—but many of the early stand-alone titles are either out-of-print or were never published. Sara and I found each other through BabelCube, and her expert rendition—Des Hommes Dangereux—is on sale now at Barnes & Noble, Apple, Scribd, Kobo, and Inktera. (And yes, it'll be on all the Amazon sites as well, but it's not there yet.)
When it was published back in 1967, Publishers Weekly said "This will hit you right between the eyes. It's terrific!" And Kirkus added that the book "goes through you like a dose of salts and stings like iodine." That should do it for the masochists among you; I'll only add that Dilys Wynn, founder of the Murder Ink bookstore, was a big early fan of the book. And, for that handful of you who are francophonically challenged, please note that SMAD is widely eVailable in English for Kindle, Nook, and well, just about everybody.
And will Sara and I be doing more of this? Well, we'll have to see, won't we? Even as we'll have to see what other books BabelCube translators might render into other languages. The whole world is changing at warp speed, as you may have noticed, and that's at least as true of publishing as it is of anything else. Are you having fun yet? Because I have to say I am.
David, who's been reading this over my virtual shoulder, promises there'll be an eBay auction soon, overflowing with goodies including rare ARCs and galleys and manuscripts. I'll get out a newsletter to alert you when it's ready to happen. And he wants me to remind you that LB's eBay Bookstore is even now replete with signed books, a majority of them priced under ten bucks. Consider yourselves reminded.
And that's more than enough from me. I wish you all the very best for 2015, and can but hope you spend some of it reading my books.