…and the Gift List begins with a picture: "Sour Bleu," painted by Edward Hopper in 1914. You know its proverbial value in verbiage, and we'll double it by adding the first 1000 words of the story Robert Olen Butler wrote for
In Sunlight or in Shadow.
Click
here
and sample a remarkable tale by a brilliant writer.We'll be sampling more stories, and showing you more paintings, as December rolls on. As we do, I'll tweet about it, and post on Facebook—but if you get in the habit of
checking the website
from time to time, you'll be sure to keep up.
Why don't I go ahead and buy the book? Wouldn't that be simpler?
Now why didn't I think of that? Yes, of course—the simplest thing would be for you to buy the book, and I'm pleased to report that a lot of y'all have been doing just that. We had our two promotional events this week, Monday at the Whitney Museum, Tuesday at the Mysterious Bookshop, and both nights we played to capacity crowds and sold every book in the house, and—
Who's we?
You could call us the Unusual Suspects. I was joined by Megan Abbott, Jill Block, Lee Child, Nicholas Christopher, Gail Levin, Warren Moore, Joyce Carol Oates, and Jonathan Santlofer.
No wonder you filled all the seats and sold all the books.
Exactly. I gather In Sunlight or in Shadow is selling strongly nationwide—and in the UK, where Lee and Megan joined me on BBC Radio Four. Pegasus has a second printing on order, and the book's already featured on a batch of print and online Year's Best Gift Books roundups. At a list price of $25.95, this beautifully printed volume's a bargain, and you may be able to find it discounted; Amazon's still offering it at their pre-order price of $19.70.
I've ordered copies for everybody on my Christmas list. Well, the ones who can read, that is. But I wish there were some sort of deluxe limited printing—as a special gift for myself.
Something like this? A Special Deluxe Edition, limited to 750 copies, signed by me and published by Cemetery Dance. You can't have it by Christmas, as I haven't even received signature sheets yet, but it'll ship sometime in 2017 and should be sold out well in advance. Price is on the high side—$60, or $84.95 if you go for the custom slipcase. This won't be everybody's thing, but if it's yours…
Um, I'll be right back.
While she's gone, why don't I suggest some gifts for the rest of y'all? I think you know about Sinner Man, my long-lost first crime novel handsomely reissued by Hard Case Crime, and available in hardcover, paperback, ebook, or narrated by the Voice of Noir, Mike Dennis.
My novella Resume Speed came out some months ago as a bestselling Kindle Single, then found a new audience when voice artist Theo Holland brought its haunted protagonist brilliantly to life. And now Subterranean Press has let it blossom into a deluxe hardcover edition, a slender volume that's an eminently collectible gift. You can't have it in hand  by Christmas, its release date is December 31, but if you want it I suggest you order it now. Subterranean's first editions are often sold out by the time they come off press, and it's rare for them to reprint.
And now some gift suggestions, all of them paperbacks which I've been able to self-publish; the editions are handsomely produced and the prices are modest. For writers: Write For Your Life, Writing the Novel from Plot to Print to Pixel, The Crime of Our Lives. Featuring Matthew Scudder: A Stab in the Dark, A Walk Among the Tombstones, A Long Line of Dead Men, The Night and the Music. Short stories: Catch and Release, Defender of the Innocent.
And then there's the Classic Crime Library: After the First Death, Ariel, Deadly Honeymoon, Cinderella Sims, Coward's Kiss, Not Comin' Home to You, Passport to Peril, Such Men Are Dangerous, The Specialists, The Triumph of Evil, You Could Call It Murder.
You're all out of breath.
And I haven't even mentioned the Collection of Classic Erotica: 21 Gay Street, 69 Barrow Street, A Girl Called Honey, A Strange Kind of Love, A Woman Must Love, April North, Born to be Bad, Campus Tramp, Candy, Carla, Circle of Sinners, College for Sinners, Community of Women, Four Lives at the Crossroads, Gigolo Johnny Wells, High School Sex Club, I Sell Love, Kept, Of Shame and Joy, Sin Hellcat, So Willing, The Adulterers, and The Twisted Ones.
Or the novels of Jill Emerson: Shadows, Warm and Willing, Enough of Sorrow, Thirty, Threesome, A Madwoman's Diary, The Trouble With Eden, and A Week as Andrea Benstock.
And how about some books in other languages? In German, for instance: Die Sünden der Väter und Drei am Haken. In Spanish: Matando a Castro, La noche y la música, Los ladrones no pueden escoger y El
sicario. And in Italian: La notte e la musica.
That's 58 titles.
Really? I'll have to take your word for it. The links are to Amazon's US site, but you can find them on all Amazon platforms. And you'll encounter most of them at other online booksellers—BN.com, certainly—and occasionally on the shelves of brick and mortar bookstores.
Sell, sell, sell…
You sound disapproving.
Oh, it's nice to have all those books available, and I guess you have to make a living. But I miss the days when you used to give stuff away. See, I've got all this empty space on my Kindle….
I can help.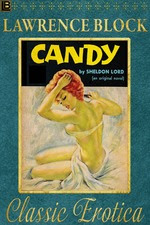 For the next seven days, from now until December 17, we're offering eight of my Kindle ebooks at the giveaway price of 99¢ apiece. From the Classic Crime Library, we've got a noir precursor to the Matthew Scudder series—After the First Death—along with my first hardcover crime novel—Deadly Honeymoon—and Ariel, a Charleston-based thriller about an adoption gone wrong.
The Collection of Classic Erotica supplies April North and Gigolo Johnny Wells, as well as two titles that could as easily be labeled noir crime novels, Candy and Four Lives at the Crossroads.
That's seven.
It is, but I'm not done yet. Last—and also least—is Keller on the Spot. It's least in terms of length, as it's a short story while the others are all novels, but it's the only one of the lot to win an Edgar. And it'll cost you a mere 99¢ for the next seven days.
What's the catch?
I'm afraid it's exclusive to the US platform, amazon.com. Although we did find a way to offer the deal to Kindlers with access to amazon.co.uk, though at the slightly higher price of 99p. Here are the links that'll work on your side of the pond: After the First Death – Deadly Honeymoon – Ariel – April North – Gigolo Johnny Wells – Candy – Four Lives at the Crossroads – Keller on the Spot. NB: Special prices in the UK won't kick in until December 11, and will run a day longer, through the 18th.
Remarkably enough, I have more things to report, including news of an indie film in the works based on one of my earliest pulp short stories. (Oh, why be a tease? The story's Bride of Violence, you can read it in One Night Stands and Lost Weekends, and here's the film's Facebook page.)
And that's enough. Let me draw this to a close by wishing you and yours all the joys of the season—along with the purely altruistic hope that some of my books may be a part thereof.
Cheers,
PS: As always, please feel free to forward this to anyone you think might find it of interest. And, if you've received the newsletter in that fashion from a friend and would like your own subscription, that's easily arranged; a blank email to lawbloc@gmail.com with Newsletter in the subject line will get the job done.
LB's Blog and Website
LB's Facebook Fan Page
Twitter:  @LawrenceBlock