Here's a newsletter that went out to subscribers yesterday:
"LB'S NEWS OF ALL MEDIA"
Well, that's an exaggeration, isn't it?
There's a medium or two of which I have no news to report. Skywriting, for example. T-shirts with cute slogans, for another. And there may be more.
Nevertheless, consider the following—
Film:  Last night I paid my third visit to the set of A Walk Among the Tombstones, currently filming with Liam Neeson starring as Matthew Scudder. My first visit was to a Delancey Street diner, where I watched them film Scudder in conversation with TJ. Then Friday I went to a crumbling mansion in the Whitestone section of Queens—Yuri's house—for a phone call between Matt and bad-guy Ray. And last night we were in Brooklyn's Green-Wood Cemetery for Matt's confrontation with Ray and his equally unpleasant pal.
I've been to film sets before, and I've always found the process as riveting to observe as, say, photosynthesis. Hard to say why this was different. Maybe I've become more easily amused with age, but I've  seen little evidence of this in other areas. All I can tell you is last night I watched them shoot the same brief scene over and over again, and I hung on every word. I, who knew how it would come out, still found the tension considerable.
It's early days; the shooting should wrap sometime in May, with a final cut months away and a release date sometime in 2014. If you can't wait, well, you can always read the book again. And, to make sure you experience it in context, you can start with The Sins of the Fathers and read the whole 18-book series in order. (A Walk Among the Tombstones is #10.)
TV: Thanks to all of you who watched me on Craig Ferguson's late-night show last week. This is the sixth or seventh time Craig's had me on, and it'smore enjoyable each time—for me, at any rate, if not for all of y'all. If you missed it, this link will take you directly to my segment. (Geoff's Liam Neeson impression is worth the click all by itself.)
My appearance had the predictable effect of lifting sales of both the new book (Hit Me) and the movie book (Tombstones). But it also gave a shot in the arm to Generally Speaking, my eNthology of stamp columns, perhaps because of our banter about (dare I say the word) Philately. And Craig's mention of my tweeting brought a rash of new followers for @LawrenceBlock. (Though I'm not sure "rash" is le mot juste…)
Audio: While I rarely listen to audiobooks—I can read more effectively with my eyes than my ears—I've been an enthusiastic booster of the medium for years, and have been delighted to have so much of my body of work available in this form. I'm thus thrilled to report that 19 of my backlist titles are scheduled for audio release on April 24, just three weeks away as I write these line. The wonderful people at Open Road, ePublishers of a slew of my early works, have made a deal with the wonderful people at audible.com, and look what you can listen to: the pseudonymous works of my other self, Jill Emerson; midcentury erotica by Sheldon Lord and Andrew Shaw; a pair of writing books, The Liar's Bible and The Liar's Companion; the three books I wrote in collaboration with Donald E. Westlake; noir classics like Cinderella Sims and 69 Barrow Street; and the unclassifiable Ronald Rabbit is a Dirty Old Man. (Isaac Asimov called Ronald Rabbit "either the funniest dirty book or the dirtiest funny book ever." When I asked if I could use the line as a blurb, he said, "Over my dead body." So there you have it…)  I believe there'll be a few more to come, and you may be assured I'll let you know about them.
Print: I know, I know. Printed books are right up there with spats and typewriters. But you can still find them if you put your mind to it. Some of you have done a nice job of finding Hit Me in hardcover, along with trade paperback editions of A Drop of the Hard Stuff and Getting Off.  If you do decide to re-read the whole Scudder series, or fill in the ones you missed first time around, printed books are not too hard to find.
May I recommend you look for them in LB's eBay Bookstore? We've got 28 Matthew Scudder listings at last count—hardcovers and paperbacks, first editions and reprints, a dozen of them under $10. Some are one of a kind, but many (including our trade paperback editions of A Stab in the Dark, A Long Line of Dead Men, The Night and the Music, and—yes—A Walk Among the Tombstones) are in good supply, and priced at $9.99. And everything's autographed.
eBooks: Do I have to mention that all of my books are abundantly eVailable? No, you already know that, and may indeed be sick of hearing it. So I'll just tell you of two titles that can be had (exclusively on Kindle, I'm afraid) at no cost whatsoever. I mean, this is Wednesday, right? And I tend to give things away on Wednesdays, don't I? So why should this Wednesday be different from all other Wednesdays?
Well, it's not. Starting today, and through Saturday, Sweet Little Hands is yours free of charge. It's a savage little story, and a darkly erotic one, initially written for a Jeff Gelb/Max AllanCollins anthology. If you haven't read it, or if you'd like to read it again or just archive it on your Kindle, be my guest.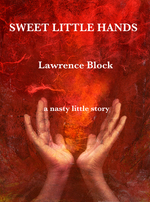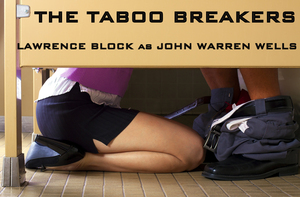 And I'm also giving away The Taboo Breakers, one of my 17 John Warren Wells titles. Whether you regard JWW as a provider of human behavior case histories or a purveyor of tasteful erotica, you might find something here of interest.
Both of these freebies come with no strings attached—but I do have a request. If you like what you read, it would be good form to return the favor by dropping a brief review on the title's Amazon page. Sharing your enthusiasm may lead others to the work, for which they'll have reason to thank you. As will I.
That's media enough, I trust. Maybe more than enough. I'd have had this newsletter to you several hours ago, but for the fact that I didn't get home from Green-Wood until well past 2am. (And I left early. I suspect they were at it until the sun came up and sent everybody home.)
Well. Grab the freebies, buy the rest, and enjoy the spring.
LB
LB's Bookstore on eBay
LB's Blog and Website
LB's Facebook Fan Page
Twitter:  @LawrenceBlock
PS: As always, please feel free to forward this to anyone you think might find it of interest. And, if you've received the newsletter in that fashion from a friend and would like your own subscription, that's easily arranged; a blank email to lawbloc@gmail.com with Newsletter in the subject line will get the job done.