As y'all probably know, I self-publish the ebook editions of quite a few of my books—with more due in the coming year. Most of them are available on all platforms—Kindle, Nook, Kobo, Apple, etc.—but it should come as no surprise that the great bulk of my business, like everyone else's, is carried on at Amazon's Kindle site. And their up-to-date and extremely transparent reporting makes it easy to see what's moving and what's standing still.
So why not share this information with all of y'all? I could wait, the month has a few days left in it, but today's Thanksgiving, after all, and I'm grateful beyond measure for the advances that have made self-publishing a viable option, and the readers who have made it a gratifying enterprise. So here's my list:
#1 – THE GIRL WITH THE DEEP BLUE EYES.  Hard Case Crime is the publisher of the handsome hardcover edition, and will follow with an equally handsome trade paperback in July. Mike Dennis narrated the audio version for Recorded Books in his trademark noir fashion. And I'm the publisher of the ebook, and it's our bestselling title this month.
#2 – A WALK AMONG THE TOMBSTONES. #10 in the Matthew Scudder series, and still getting a boost from Scott Frank's brilliant film, in which Liam Neeson is the perfect embodiment of Scudder. I'm also the publisher of the trade paperback edition. (Innit pretty? You wouldn't believe how hard it is for me to write "trade paperback" without prefacing it with "handsome.")
#3 – A STAB IN THE DARK. The fourth Matthew Scudder novel, and it generally runs neck and neck with AWATT in the sales derby. We publish both the ebook and the handsome TPB.
#4 – A LONG LINE OF DEAD MEN. Scudder #12. When Scott Frank and I talk about a sequel to A Walk Among the Tombstones, this is generally first or second on our list. Not that it matters, as the odds against anybody green-lighting a sequel are pretty high at the moment, but sharing our thoughts on the subject gives us a handy excuse to have lunch. (And yes, the handsome trade paperback is ours.)
#5 – THE NIGHT AND THE MUSIC. Scudder #18—the complete Matthew Scudder short fiction, and increasingly regarded as an 18th novel, covering the full span of Matt's career and concluding with the elegaic "One Last Night at Grogan's." I self-published TNATM a little over four years ago, as an ebook and trade paperback, and it's always among our lead titles. (I also narrated the collection for AudioGo's audiobook.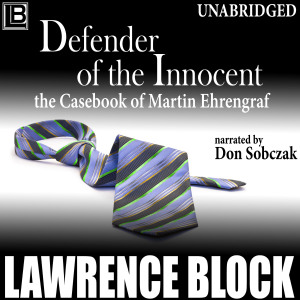 #6 – DEFENDER OF THE INNOCENT. The complete collection of stories featuring Martin Ehrengraf, the dapper little lawyer who never loses a case, and hardly ever sees the inside of a courtroom. Bill Schafer's legendary Subterranean Press is the book's hardcover publisher, and still has a few copies available; we publish the ebook and trade paperback editions. And audio fans will enjoy Don Sobczak's spot-on narration.
#7 – OUT THE WINDOW. This novelette, which first appeared 40 years ago in Alfred Hitchcock's Mystery Magazine, was the first work of short fiction featuring Matthew Scudder—and is thus the opening episode in THE NIGHT AND THE MUSIC. Ever since AWATT hit movie screens, OUT THE WINDOW has wound up on a lot of people's Kindles, giving them a quick introduction to the series. (It's obviously a much better deal to scoop up TNATM for $4.99 than to pay $2.99 for OUT THE WINDOW.)
#8 – THE BURGLAR WHO COUNTED THE SPOONS. Bernie Rhodenbarr's eleventh and most recent adventure. Come Christmas, it'll be two years since I published this title—as an ebook and trade paperback. (And as a deluxe signed-and-numbered leather bound Collector's Edition, which is currently on special at a remarkably low price in LB's eBay Bookstore. But I digress…) Subsequently Subterranean issued a hardcover trade edition, so there are many ways for you to add this book to your library. And all of them seem to be popular these days…
#9 – THE BURGLAR WHO DROPPED IN ON ELVIS. One of a handful of Bernie Rhodenbarr stories which we've made individually available for Kindle. This one first appeared in Playboy; others currently available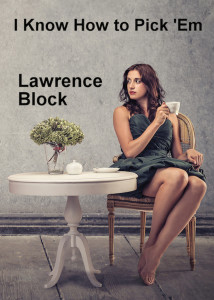 are THE BURGLAR WHO SMELLED SMOKE, and LIKE A THIEF IN THE NIGHT. (THE BURGLAR TAKES A CAT is an extract from THE BURGLAR WHO TRADED TED WILLIAMS, while A BAD NIGHT FOR BURGLARS is a sort of precursor to the entire series; it's not exactly Bernie, but you can see where he came from.)
#10 – I KNOW HOW TO PICK 'EM. A short story which appeared initially in DANGEROUS WOMEN, an outstanding anthology edited by George R. R. Martin and Gardner Dozois. It came too late for inclusion in my own most recent collection, CATCH AND RELEASE, so it's only available as a single.
So there you have it, my own personal bestseller list for the month. No idea at this point whether this'll turn out to be a continuing feature or a one-off, but I suspect time will tell.
Cheers,