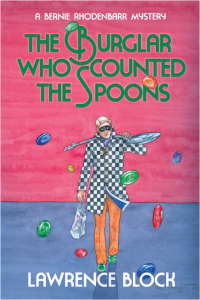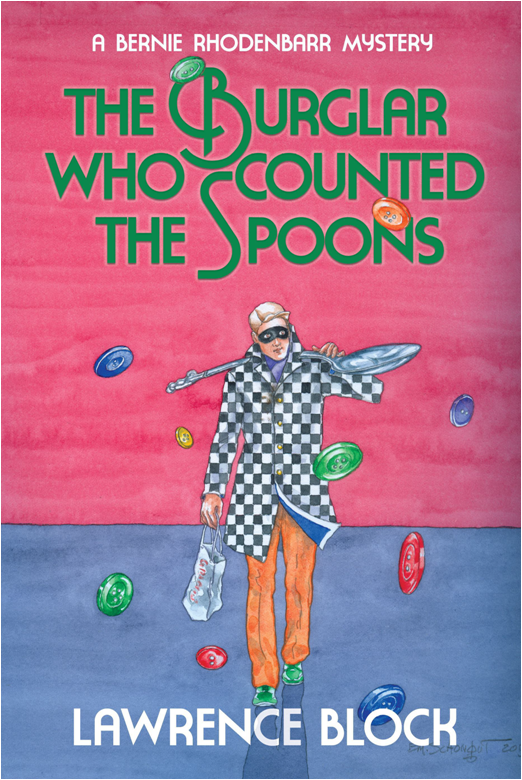 Surprised?
Well, that makes three of us. I honestly thought I was done writing books, even as my good friend Bernard Grimes Rhodenbarr figured he was through appearing in them.
Turns out we were both wrong.
A couple of months ago I boarded the MS Veendam in Boston's tea-stained harbor, and five weeks later it returned to port and I disembarked with a book written. I told you that much a while ago, and now I can add what you've already surmised from a glance at the cover. The book's title is The Burglar Who Counted the Spoons, and it's the eleventh volume about Mrs. Rhodenbarr's son Bernie.
In the ordinary course of things, you'd be able to read it somewhere around the end of next year or the beginning of 2015. But do you really want to wait that long?
Well, by George, you don't have to. I've chosen to publish the book myself, with a release date of December 25. And, because the good people at Amazon have so arranged matters, you can click here right now and pre-order The Burglar Who Counted the Spoons as either an eBook or a handsome trade paperback. (And handsome's the word for it. Isn't that a gorgeous cover?)
The eBook's priced at $9.99, and available only at Amazon. The trade paperback's $14.99, and more widely available. And I know y'all have questions, so go ahead and ask them.
What's the book about?
Well, it's about 84,000 words long. And it's about time—according to those of you who've been asking for more about Bernie ever since The Burglar on the Prowl in 2004. Beyond that, it gets complicated. There's a descriptive paragraph on the book's Amazon page, but I can tell you that Bernie's joined by Carolyn Kaiser and Ray Kirschmann and Raffles the Cat, and that plot elements include a handwritten manuscript, a collection of American Colonial silver, steamer trunks overflowing with buttons, a girl with a gecko tattoo, and a whole lot of breaking and entering.
Why did you make the eBook an Amazon exclusive?
Because that turned out to be by far the best way to reach a large audience quickly and effectively. If you don't have a Kindle, you can still buy the eBook from Amazon and read it on just about any device—with one exception.
Damn your eyes, Block! I have a Nook!
You also have my sympathy, because that's the exception. I should point out, though, that while the eBook's Amazon-only, the paperback's widely available. In fact, truly dedicated Nooksters can buy the paperback at Barnes & Noble.
Well, I definitely want the paperback, because I have to have that cover on my shelf. You know, I've never seen it before, and yet it looks oddly familiar. Why is that, anyway?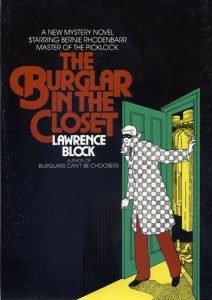 I guess you must remember the covers of the first four books in the series, initially published by Random House in 1977-80. I was looking at one of those covers recently, and thinking how wonderful it would be if I could possibly find the original artist and persuade him to help me let Bernie be Bernie. The miracle of the internet led me to the brilliant Emanuel Schongut, and isn't it fantastic? Bernie's still young and debonair, and his topcoat remains as checkered as his career. If only…
Will the book be in stores?
It'll be in some stores, and any store will be able to order it. But the best way to obtain it, especially if you want to ensure timely delivery, is to pre-order online.
You mentioned the eBook and the trade paperback. Won't there be a hardcover?
There will, but it'll be something special—a deluxe signed-and-numbered hardcover collector's edition, limited to 1000 copies and priced at $74.99.  Sometime within the next week or so I'll devote a newsletter to this special edition. (If you don't want to wait, an email to David Trevor (lawbloc@gmail.com) will get you full details.)
Well, maybe I'll get lucky and somebody'll buy it for me for Christmas. But what about signed copies of the trade paperback? Any chance of those?
Some booksellers will be offering them, and I'll let you know when and where they're available. And after the release date we'll have signed paperbacks on sale at LB's eBay Bookstore—as we do now with Catch and Release, A Walk Among the Tombstones, A Stab in the Dark, A Long Line of Dead Men, and The Night and the Music.
If you're a dealer and want to stock signed copies of The Burglar Who Counted the Spoons—or Catch and Release, for that matter—please email David Trevor (lawbloc@gmail.com) and he'll run down the terms and discount for you. (And it's a cinch to qualify for the dealer discount; all you have to do is order five or more copies of either title.)
Will there be an audiobook? And (please please) will Richard Ferrone narrate it?
You bet. Recorded Books pounced on the audio rights, and Richard's slated to voice it, but we're we're not sure just when their edition will go on sale. Rest assured that I'll let you know!
That's great news. And I'll bet you have more things to tell us, don't you?
More things to tell, but too little room for the telling. In brief:
(1) This past Friday Lynne and I saw a screening of A Walk Among the Tombstones, and it's wonderful, and Liam Neeson's perfect as Matthew Scudder. Look for the film's release sometime in September 2014.
(2) Catch and Release has been getting great reviews and is selling briskly (at both B&N and Amazon) in eBook and trade paperback. Hard Case Crime will follow up in May with Borderline, a rediscovered novel of erotic suspense of mine from half a century ago. (I was only three years old when I wrote it. Like, do the math, dude.)
(3) I've got something cooking about which I can't yet be specific. Suffice it to say that I'm putting together a collection of the crime stories of a favorite literary author not normally thought of in connection with the genre. Very exciting for me—and, I trust, eventually for you as well.
And that's it. A couple of clicks and you can make sure you'll be the first on your block to have Bernie's latest adventure in hand before the first of the year. So what are you waiting for? (And if you're outside the US, Amazon's sites for France, Germany, Spain, Brazil, Japan, Italy, Canada, and the UK are just a click away.)
Thanks!

PS: If you would like to subscribe to this newsletter, there's a form on the right side of this page, or a blank email to lawbloc@gmail.com with Newsletter in the subject line will get the job done.
LB's Bookstore on eBay
LB's Blog and Website
LB's Facebook Fan Page
Twitter:  @LawrenceBlock