David Trevor here. (But that's obvious. My prose isn't as smooth as LB's, or anywhere near as uplifting as Erin's. Deal with it.)
A little history, okay? In 1976 LB started writing a fiction column for Writers Digest, and it ran monthly for fourteen years. In 1978 he wrote his first book for writers, Writing the Novel from Plot to Print, and it remained in print for something like 35 years. He's now expanding and updating it, and plans to publish it anew early in 2016.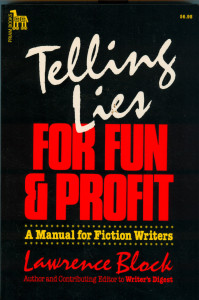 In 1981, Arbor House published his collected WD columns under the title Telling Lies for Fun & Profit. It's been reprinted several times, most recently by HarperCollins, and is currently available as an ebook or trade paperback. People have been saying great things about this book ever since it appeared, and it's at or near the top of most lists of useful books for writers.
We're selling the book in LB's eBay Bookstore. We have copies of the 1981 Arbor House edition, hardcover first editions for $9.99 plus shipping, trade paperbacks for $9.99 with free shipping. And all copies are autographed.
Why so cheap? Because we've got a bin full of the things. Arbor House published the hardcover in 1981, the paperback a year or so later. The book was an alternate selection of the Book-of-the-Month Club and did quite well, but in 1986 Arbor House remaindered it, and LB bought up all the copies. We've been selling them ever since, but the prices were a lot higher until quite recently, when we chopped them. We did this without any fanfare, and sales have been slow—until yesterday, when I processed a sale and crowed about it on Facebook. And right away sold three more copies.
So it makes sense to let you know about it, right?
The books are in new condition, still in the Arbor House cartons. Some of the hardcovers show a little wear, that's how they were when LB took delivery on them. But they're still choice, and the hardcover first edition is genuinely scarce. Back in 1981, most copies sold to libraries, or went out to people who read the print off the pages. Does this mean it's a collectible and a good investment? That's a stretch, but at this price I don't think you can get hurt much.
If you're interested in writing fiction, or just enjoy reading LB's mellifluous prose, you want this book. If you owned a copy and gave it to somebody, now's your chance to replace it. If you kept your copy but know somebody who'd like it, here's a quick and easy gift in plenty of time for the holidays.
And, if you want to buy the book in quantity, let me know and we'll quote you a price. If your writers group could use them, say, or if you've got a gift list full of writers. Point is we've got plenty, and can give you a decent deal. An email to lawbloc@gmail.com will get a prompt response, esp. if you put ATT: DAVID TREVOR in the header.
LB's written other books for writers, too, and I was going to run down the list here, but this is long enough. It'll have to wait.
~David Trevor