~David Trevor here. I just wrapped our last hardcover copy of Borderline for shipment to a customer in Fishers, Indiana. (LB says he had breakfast there in June on his way to the Rhubarb Festival in Aledo, Illinois. If I'd sold the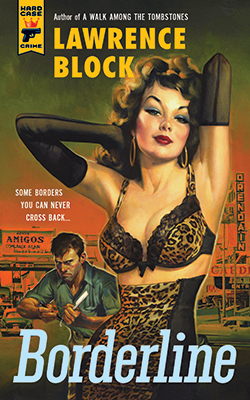 book to somebody in East Elephant, Montana, LB would claim to have eaten a meal there, or romanced the local librarian, or God knows what. Never mind.)
We still have a good supply of the Hard Case paperback  and also hardcovers and paperbacks of another Hard Case title, Getting Off.  And I've got a batch of other books that I haven't listed yet. Soon, I hope…
We also sold out of
The Night and the Music,
but our edition is still in print and all I had to do was re-order from the printer. They delivered a few days ago, so we continue to have signed copies available of LB's complete collection of Matthew Scudder short fiction.
I ought to write something so that the text will line up with the bottom of the Borderline photo, but I haven't got anything to say. (I just said as much to LB, and he pointed out that this had never stopped me in the past.)
There!