Y'all know the story, right? The Duke of Gloucester, patron to Edward Gibbon, upon receiving the second volume of Decline and Fall of the Roman Empire: "Another damned thick book! Always scribble, scribble, scribble! Eh, Mr. Gibbon?"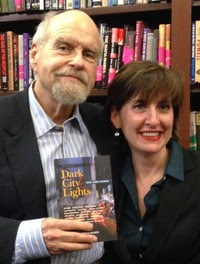 I'm pleased to report that I've been keeping the scribbling to a minimum these days, but even so the damned thick books keep coming. Eight days ago we launched Dark City Lights at the Mysterious Bookshop, with a majority of the book's contributors in attendance, and before we were done the store was out of books. (Well, out of DCL, that is. It'd take a bibliomaniacal oil sheikh to strip Otto's shelves to the bare wood.)
Here I am, holding a copy. And that's the author of "The Lady Upstairs" standing at my side, and doesn't she look for all the world like someone celebrating the publication of her second story? (Her first, "Like It Never Happened," appeared two months ago in Ellery Queen's Mystery Magazine.) If you're in Australia, you'll soon be able to read "The Lady Upstairs" in Title, the lifestyle magazine for apartment-dwellers; the sharp-eyed editor read Dark City Lights and arranged to reprint the story. If you're here in New York this Sunday, May 17, head over to Shade Bar at 241 Sullivan Street, where you'll hear stories from DCL read by Brian Koppelman, Thomas Pluck, Jane Dentinger, Peter Hochstein, Kat Georges, Annette Meyers, Tom Callahan, Peter Carlaftes—and, um, Jill D. Block.
I was also signing copies of two other damned thick books, the new Subterranean Press hardcover of The Burglar Who Counted the Spoons and my nonfiction collection, The Crime of Our Lives. Both are available from online booksellers; if you'd prefer autographed copies, call Ian at The Mysterious Bookshop: (800) 352-2840.
GAINED IN TRANSLATION:  I've been very well served over the years by publishers throughout the world, but decades of scribble scribble scribble have given me more of a body of work than any publisher can expect to keep up with. Well, this new age of self-publishing has opened up new opportunities, and I've been taking advantage of them. A few months ago Sara Sugihara's French translation of Such Men Are Dangerous became widely eVailable as Des Hommes Dangereux, and it's now joined by Jordi Garcia's Spanish translation of Getting Off, the title now rendered as Excitación. And that's just the beginning. A German translator is getting started on the Matthew Scudder novels, and a Spanish translator is having a go at the Bernie Rhodenbarr books, while an Italian friend of mine, long an ardent Evan Tanner fan, is bracing herself to deal with Il ladro che non dorme.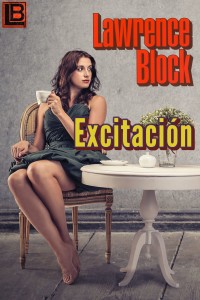 And why am I telling you all this? Because I've got a whole lot of books, and the world has no end of languages. I figure some of y'all are translators, or know a translator or two. Maybe we can do a little business.
And the business model is an interesting one. There'll be no money in front for the translator, not even when the work is completed. That's the bad news. The good news is that the translator will share generously in the book's earnings, and there'll be no ceiling here; for as long as the book generates income, the translator will get a large share of it, with statements rendered and payments made four times a year.
I think I see some hands. Yes?
What books are available?
Pretty much anything that isn't already under contract in a given language.
And what languages? Suppose I wanted to translate Getting Off into Urdu?
Sorry, it's already spoken for. No, not really. But what you have to consider is whether there a large enough market for ebooks in the language of your choice. I'm not running any great risk here, as my only out-of-pocket expenses are the cost of ebook production. The translator is risking a great deal of time and effort. But if you want to translate a book of mine into Finnish, say, and your research and intuition suggest it'll be worth your while, I'm all for it.
Will you be doing printed books as well?
Good question. There's a possibility of bringing out POD paperbacks if the demand seems to warrant it. There's also the possibility that a traditional pubisher will want to bring out a printed book. In either eventuality, the translator will be a full participant. But ebooks are the priority here.
Okay, I'm interested. Now what?
Email me (lawbloc@gmail.com) and tell me about it.
I'll tell you, I'm enjoying this brave new world of DIY publishing. I guess it was about a year and a half ago when I decided to reissue Write For Your Life as a CreateSpace POD paperback. HarperCollins publishes the ebook, and does quite well with it, but I had the feeling that WFYL, essentially a home seminar for writers, was a book readers would want to be able to interact with in physical form. Aside from a newsletter mention and a Facebook post or two, I haven't done anything to support the book, and yet the sales increase from month to month in a very gratifying fashion. Readers often want the Affirmations for Writers tape, which is now available as an MP3 download, but don't always know where to go for it; here's the eBay listing. The price is $9.99, and that includes delivery anywhere in the world, through the miracle of email.
And that, I do believe, is enough from me. Spring, which took forever to get here, is largely over. Get out and enjoy it while you can. (OTOH, if it's raining where you are, or if night has fallen, well, you can always read something, can't you?)
Cheers,
PS: As always, please feel free to forward this to anyone you think might find it of interest. And, if you've received the newsletter in that fashion from a friend and would like your own subscription, that's easily arranged; a blank email to lawbloc@gmail.com with Newsletter in the subject line will get the job done.
LB's Bookstore on eBay
LB's Blog and Website
LB's Facebook Fan Page
Twitter:  @LawrenceBlock