…and the first is that it's spring, although you wouldn't know it by the newsletter template, would you? I seem to find it all too simple to choose this particular Falling Leaves template over and over again, irrespective of the date on the calendar, and it's true that it's seasonally appropriate for our subscribers in the Southern Hemisphere, and I quite like the looks of it, so there we are. But I do have a few bits of news to impart, so let me Get On With It.
1. LB's eBay Bookstore is open again. You may never have noticed it was closed, but we shut it down before my first train ride to Florida, and just unfastened the virtual
gates yesterday. I'm not sure what the future holds for the Bookstore. It sometimes strikes me as more trouble than it's worth, and yet I hate to pull the plug on it. What on earth would I do with the books? For now, we're open—and filling orders as soon as they're received. Just a few minutes ago David reported an order for a signed first edition of Random Walk. (I didn't even know we owned any, but he tells me we still have four copies left. Who knew?)
There's one new price I ought to tell you about. The leatherbound Collector's Edition of The Burglar who Counted the Spoons, published at $79.99 and reduced some months ago to $29.99, is now lower still—just $24.99 with free shipping to US addresses. (And we're able to ship out of the country on eBay Bookstore orders, but apologize in advance for the shipping costs, which are onerous.)
2. If you want a hardcover of TCOOL, don't buy it from our bookstore. We've got The Crime of Our Lives on the virtual shelf there, but it's priced—fairly enough, really—at $24.99. But if you order it from Amazon, where we've got overstock copies we're trying to unload, you can scoop it up for the giveaway price of $9.99, and if you're an Amazon Prime member they'll ship it to you for free. Consider this: We only printed 1000 of these beauties, and over 800 of them went straight from the printer to Amazon. They've got more than 700 left, and sometime in May whatever's still unsold goes to a landfill, because we've tired of paying the storage costs. Thus the bargain-basement price. If you already cherish the book, you might want to buy extra copies for friends. If you don't think much of the book, then buy it for people you hate.
3. Coming May 10—a new Keller novella! I've mentioned it before, but now the schedule's in place: Keller's Fedora, a brand-new 24,000-word novella, will be available exclusively at Amazon as a Kindle Single, with an on-sale date of May 10. Amazon's Kindle Singles service includes preparing a cover, and their artist is at work on it now. Soon as the cover art's set, I'll show it to you; for now, we'll have to make do with their iconic cover for Resume Speed, which debuted as a Kindle Single in mid-February and continues to sell strongly.
(Later this year Resume Speed's coming in hardcover trade and limited editions from Subterranean Press. Their cover's amazing; click for a look at it, and while you're there you might want to place a pre-order; that's particularly advisable if you want the limited edition. And did I mention that we've arranged with Subterranean to bring out Keller's Fedora in hardcover trade and limited? Well, we have—and I couldn't be happier, and can't wait to see what their cover artist comes up with. But that's a ways down the line.)
4. Just scheduled—a deluxe limited edition of In Sunlight or in Shadow: 17 stories inspired by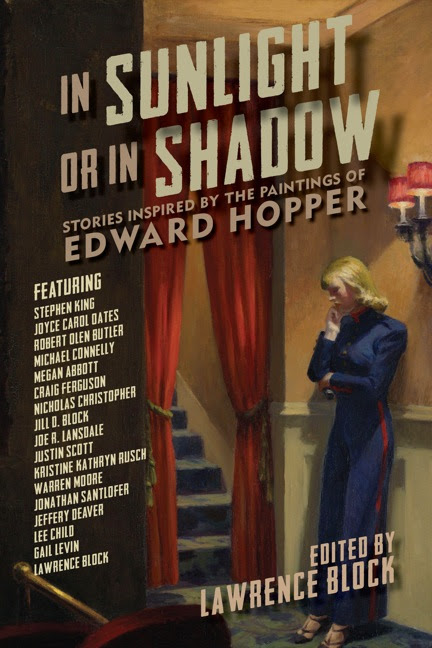 paintings of Edward Hopper. As you'll recall, late this year Pegasus Books will publish this anthology, with an all-star lineup of authors and each painting reproduced in color; how Pegasus can do it at this price is beyond me.
And now Pegasus has arranged for those excellent small-press publishers, Cemetery Dance, to bring out a deluxe limited edition of the anthology. If you're familiar with the publisher, you know what fine work they do. They're not taking pre-orders yet—we just made the deal this week—but you might want to bookmark the page and check in from time to time. (Note that copies won't be signed by all the contributors, just by Your Humble Anthologist.)
5. The Collection of Classic Erotica—is there no end to it? Apparently not. I've republished 15 titles so far, with several more in the works, most of them previously unavailable outside of a used-book store ever since their initial publication in 1960-61. I've used all the original cover art, and I'll show two of my favorites here, both painted by the great Paul Rader.
It's taken me quite a few years to become comfortable with these books. They were a wonderful training ground for me, allowing a very young writer to make a living while working in a very forgiving medium; I could write anything I wanted, so long as the sexual content was there and the story moved along. The sex scenes were remarkably mild by today's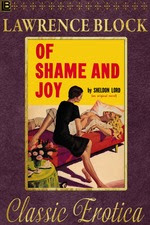 standards—none of the words on George Carlin's list of words you can't say in TV (although everybody seems to say them now, at least on cable), and descriptions that were more implicit than explicit. But I guess they did the job in their day; one fellow, an ex-Air Force buddy of Don Westlake's, told me their first child was almost named Carla, her conception having been facilitated by my first book for Harry Shorten at Midwood.
At the moment, the CCE titles are available only as Kindle ebooks—which means, of course, that you can read our forthcoming title High School Sex Club in public, and nobody will know. But very shortly we'll be bringing them all out in paperback editions with the same glorious covers, and I expect they'll look spectacular—so much so that you won't mind a bit if people know what you're reading. As soon as they're ready, I'll let you know. Count on it.
6. And there's more coming, so much more. Over the course of the summer, we expect to be publishing all the Jill Emerson titles, all three erotic novels written in collaboration with Donald E. Westlake, another written in collaboration with the
legendary Hal Dresner, a pair of books for writers (The Liar's Bible and The Liar's Companion), and Crossroads, a brand-new addition to the Classic Crime Library originally published under a pen name over half a century ago.
And, of course, let's not forget that Hard Case Crime has Sinner Man, my long-lost first mystery scheduled for November release, and available for pre-order now. The story of how it got lost and how it finally came to be found is an interesting one, and I've had the opportunity to recount it in detail in the book's afterword.
And that's it for now. You'll have to excuse me, as it's now my assigned task to read the aforementioned High School Sex Club for the first time since I wrote it. How else will I be able to write the book description for the Amazon product page? You see what I put myself through, just so y'all will have something amazing to read? But hey, that's okay. You can thank me later.
Cheers,
PS: As always, please feel free to forward this to anyone you think might find it of interest. And, if you've received the newsletter in that fashion from a friend and would like your own subscription, that's easily arranged; a blank email to lawbloc@gmail.com with Newsletter in the subject line will get the job done.
LB's Bookstore on eBay
LB's Blog and Website
LB's Facebook Fan Page
Twitter:  @LawrenceBlock