Something Old:
Well, not all that old. A year ago we began taking orders for our Limited Edition of Hit Me, the fifth book about Keller. In addition to being a quality small-press production, signed and numbered, the book was philatelically enhanced, with a Personal Postage stamp affixed to the limitation page and a special souvenir sheet included as a bonus.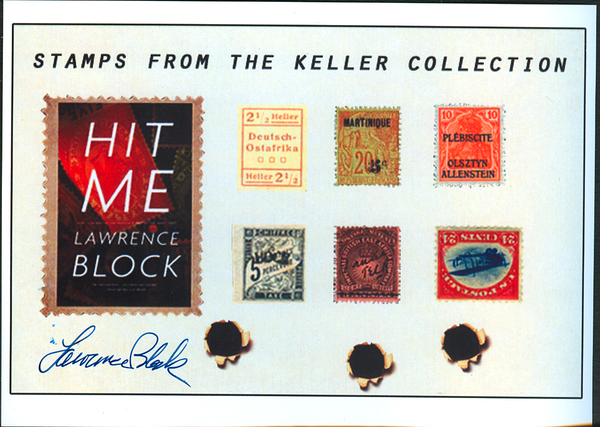 The book sold out long ago at our issue price of $75, and just the other day I saw a copy priced at $250 on eBay. But there was an overrun of the souvenir sheets, and David persuaded me to share them with the world. They're printed on peel-and-press stock (so you could peel off the backing and stick them onto something, but why would you want to?) and depict some rare stamps from Keller's personal collection, including the Poor Man's Jenny in the lower right corner. And they're all signed at the lower left.
The price is $9.99, which includes shipping to US addresses; postage is additional on international orders, but still only a few dollars. I blogged about these last week, and orders came in a rush; while we have a good supply, they won't last forever. And yes, they're a dandy Christmas gift—but no more than five to a customer, please.
Something New:
And that would be The Burglar Who Counted the Spoons, Bernie Rhodenbarr's eleventh adventure, so new it won't be out until Christmas. I'm publishing it myself—otherwise we'd all have to wait another year or more for it—and it's available in three forms: as an eBook, expertly formatted by my Production Goddess, and eVailable exclusively at Amazon; as a HandsomeTradePaperback with a gorgeous cover by Emanuel Schongut; and as a Hardcover Collector's Edition, signed and numbered, with the cover art tipped onto the green faux-leather binding.
This may be new, but it's not news. You've been crowing about it for a while.
Here's what's new: (1) You can now pre-order signed copies of the HandsomeTradePaperback from our eBay store. You'll pay a slight premium—$16.99 plus shipping—but that'll get you a signed copy, and we'll do what we can to get it to you by Christmas. (2) We're offering 5-copy wholesale lots of the signed paperback at a price that makes them a good deal for resale or gift-giving: $59.99 postpaid to US addresses. (3) While supplies last, we're offering a similar deal on the Collector's Edition—5 copies postfree in the US for $274.99.
Well, okay. I didn't know about any of that.
Do you know you can read the first chapter now? It's short, just enough to give you a taste—and, I can but hope, engender a craving for the rest. But here you are, if you're brave enough to bite into that first potato chip…
And now for Something Orange:
It's Wednesday, isn't it? The day we give away stuff? A week ago precisely 2271 of y'all snapped up One Thousand Dollars a Word. (If you missed it, take heart; you can catch up for a mere $2.99.) Now and for the next several days we're giving away Cleveland In My Dreams, a short story from the mid 1980s that, while not a crime story, was first published in Ellery Queen. It's been dramatized twice, in a lovely short film by Mark Sullivan and on television in the UK. (They changed the title to Bradford In My Dreams, having settled on Bradford as the British equivalent of Cleveland. If you live in either city and find the comparison offensive, be assured it wasn't my call.)
Along with the story, you get the first chapter of The Burglar Who Counted the Spoons. You say you already read it? Tacked on to One Thousand Dollars a Word? Or when you clicked on that link a few paragraphs ago? So? What's so terrible about reading it again?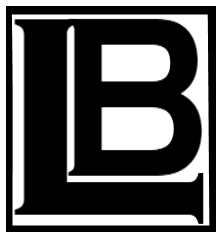 PS: As always, please feel free to forward this to anyone you think might find it of interest. And, if you've received the newsletter in that fashion from a friend and would like your own subscription, that's easily arranged; a blank email to lawbloc@gmail.com with Newsletter in the subject line will get the job done.