The Burglar Who Counted the Spoons Posts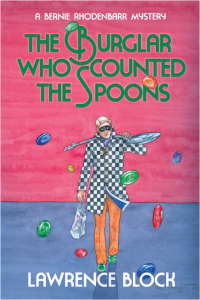 "When will Bernie be back?" Readers have been asking that haunting question for almost a decade. Now they have their answer*+.
Bernie Rhodenbarr, everybody's favorite bookseller by day and burglar by night, returns in THE BURGLAR WHO COUNTED THE SPOONS on December 25, 2013. This is the eleventh mystery in the Burglar series#, and the first since 2004's THE BURGLAR ON THE PROWL.
Legendary author Lawrence Block has, by his own admission and to readers' delight, made an utter dog's breakfast of retirement. He returns in exceptional form to one of his most beloved characters in THE BURGLAR WHO COUNTED THE SPOONS.
THE BURGLAR WHO COUNTED THE SPOONS finds Bernie and his lesbian sidekick Carolyn Kaiser breaking into houses, apartments, and even a museum, in a madcap adventure replete with American Colonial silver, an F. Scott Fitzgerald manuscript, a priceless portrait, and a remarkable array of buttons. And, wouldn't you know it, there's a dead body, all stretched out on a Trent Barling carpet.
Having finished the manuscript aboard the MS Veendam just two months ago, LB decided that, having reached the age where a prudent man no longer buys green bananas, he would publish THE BURGLAR WHO COUNTED THE SPOONS himself. With the able, flexible and speedy assistance of Kindle Direct Publishing and CreateSpace, he is doing exactly that. When asked why, LB commented:
"Whenever I finish writing a book, I have a strong desire to leave my desk, go outside, walk around the corner, and see the book I just finished, sitting front and center in a bookstore window. That's how it ought to work. And it's about to come close."
THE BURGLAR WHO COUNTED THE SPOONS will be available in the following formats and venues:
eBook: Exclusively through Amazon, in the Kindle format that is compatible with a multitude of devices through free apps.
Trade Paperback: Through Amazon.com and other online retailers for consumers, and through Ingram and CreateSpace for bookstores and libraries.
Deluxe Signed-and-Numbered Hardcover Edition: Available through LB's eBay store
Audiobook: Narrated by Richard Ferrone
THE BURGLAR WHO COUNTED THE SPOONS is available for preorder now.
---
* See above.
+ No, that's not a typo.
# Yes, you read right. A brand-all-new Burglar novel.
ORDER NOW
THE BURGLAR WHO COUNTED THE SPOONS POSTS