How did it get to be November already? Time flies, it would appear, whether or not you're having fun.
But you knew that, right? So let me trot out some items that might actually be news to you.
May I suggest you take a moment to pre-order
Alive in Shape and Color
? 17 works of arts and the 17 stories they've inspired. Publication by Pegasus is less than a month away, and it's not too early to guarantee a first edition copy for yourself (and for the truly treasured people on your Christmas list). Booklist and PW have already said very nice things about this sequel to
In Sunlight or in Shadow
, and it'll be featured soon in the New York Times Book Review. The authors are listed on the cover, and the artists include Dali, Renoir, Gauguin, Van Gogh, O'Keeffe, Rodin, Magritte, Michelangelo, Bosch, Balthus, Gerome, Hokusai, Norman Rockwell, Clyfford Still, Lilias Torrance Newton, Art Frahm, and the Cave Painter at Lascaux—with a bonus no-story-attached painting by Raphael Soyer.
Will there be a public signing?
Just one, and mark your calendar: Thursday, December 7, The Mysterious Bookshop, 58 Warren Street, New York NY 10007. At least half a dozen of the contributors will be on hand to sign your books, talk about their stories, and—one can but hope—say nice things about the anthologist. You should probably show up by 6:30 to be sure of a seat. And, if you can't get there yourself, call the bookstore (800-352-2840) ahead of time to order a copy signed by all the attendees.
Now look who's in the comics!
Yes, remarkably enough, it's Matthew Scudder in Eight Million Ways to Die, a full-length graphic novel coming in June from IDW. This is the fifth book in the series, and the pivotal one in which staying alive and solving a string of murders is the least of Scudder's problems. The 1986 film, despite fine performances by Jeff Bridges and Andy Garcia, was only so-so, but John K. Snyder III's version looks like a winner.
The book's been a long time coming; we made a deal with IDW back 2011, and I'm happy to report that they took the time to do it right. In the past few days, the project's been getting a lot of ink in trade publications, and IDW has even posted a 60-second video preview which should give you an idea of Snyder's approach; if you like what you see, go ahead and pre-order it.
Will IDW be doing the rest of the series?
That's the hope. It depends, of course, on what kind of reception Eight Million Ways to Die gets. As you may recall, IDW brought out the Darwyn Cooke graphic novel renditions of Richard Stark's Parker novels, so it's pretty clear that our Mr. Scudder is in good hands.
The novel's available in other formats as well—paperback, ebook, and an unabridged audio version narrated by its author. I quit doing audio in recent years, my voice just doesn't hold up the way it used to, although I made an exception for Keller's Fedora.
More recently I've been teaming up with voice artists to publish backlist titles in audio, and Theo Holland has been working his way through the adventures of Evan Michael Tanner. He's done a marvelous job with Tanner #4, The Scoreless Thai, and I commend it to your attention. And click here for the web page with all 94 of my titles presently available in audio.
94 audiobooks? Really?
I know. Some would call it wretched excess, but they're just jealous.
And all 94 of them in English. What's new in translation?
For starters, here's Nighthawks, just published by Droemer in a beautiful hardover edition. It's Frauke Cwikla's German translation of In Sunlight or in Shadow, and it's been getting a heartening reception from readers and reviewers alike. Early on, when my agent and I were trying to make ISOIS come together, Droemer was the first overseas publisher to come on board—so it's gratifying to see their support rewarded by this splendid volume.
And it's a brisk shot in the arm for the Matthew Scudder novels I've been publishing in German, in partnership with translators Stefan Mommertz and Sepp Leeb. Self-publishing across international borders is a tricky enterprise, but Scudder—in both ebook and paperback form—is beginning to get a foothold in the German market. In addition to all Amazon platforms, the titles are readily available from Thalia.
Luigi Garlaschelli began with La Notte e la Musica, the complete Matthew Scudder short stories, then switched from detective work to burglary for Il Ladro nella Bibliotecca and Il Ladro in Caccia. They're #8 and #10 in Bernie Rhodenbarr series, and Luigi has now filled in superbly with #9, Il Ladro che Beveva Rye. It's just out in ebook form, with a paperback soon to follow. Next up for Italian readers will be #11, The Burglar who Counted the Spoons—but that may take a while. I'll keep you posted.
Please do. That's the Burglar in the Rye, isn't it? I must say I like the cover.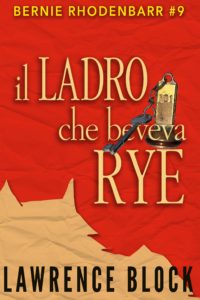 Me too. It's Jaye Manus's work. And how's this for a striking cover? Over in France, the contemplative assassin Keller has moved to Gallimard's Serie Noire with his fifth book, Tue-Moi; I'm not qualified to rate Sébastien Razier's translation, and far too humble to tell you how wonderful it was in English as Hit Me, but there's nothing to prevent my saying how much I like the looks of this edition. And, all modesty aside, may I quote a recent review? "Bref, il est très difficile de ne pas fondre devant ce tueur iconoclaste, repoussant mais néanmoins très attachant avec des côtés très dandy créé par un Lawrence Block qui a su donner des lettres de noblesse à la littérature de gare."
And isn't that a nice note to end on?
Cheers,