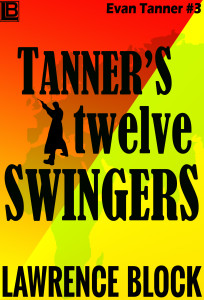 The other day, my Talkwalker alert let me know that the third Evan Tanner novel, Tanner's Twelve Swingers, had been reviewed online. Now it's true that the book, like its seven companions, is very much in print, and has been on offer from one publisher or another more often than not. You'd be hard put to find it in a bookstore, but then it's increasingly hard to find a bookstore in the first place, isn't it? But it's widely available online, as a mass-market paperback or as an ebook.
OTOH, the book made its first appearance on bookstore shelves almost fifty years ago—four or five years before Tommy Hancock, the Australian who reviewed it, made his first appearance on the planet. If realizing as much did not make me feel especially youthful, it damn well made me feel durable. I—and Evan Tanner—have been around a while, haven't we?
Took me back, I must say.
I began writing about Tanner in early 1966, toward the end of my year and a half in Racine, Wisconsin. (My only post-college job, as an editor in the coin supply division of Whitman Publishing. I liked it well enough there, but it cured me of the notion that I could undertake honest work, and I've steered clear of it ever since.) That first book, The Thief Who Couldn't Sleep, was arguably the first book in which I found a voice that was uniquely mine, and it spoiled me; the next book I wrote, The Canceled Czech, was a sequel, and a series was born.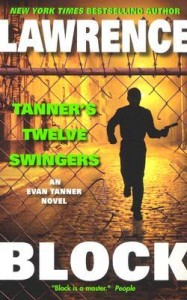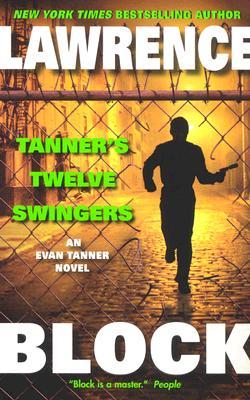 By then I was living in New Brunswick, New Jersey, in a large old house on Stratford Place. I had a big old wooden desk that had followed me from Tonawanda to Racine to New Brunswick, and the movers had to amputate its two hind feet in order to navigate the stairs to my third-floor office. I propped it up on a couple of books and went to work, and somewhere along the way I got cracking on the third Evan Tanner novel.
In the fall of 1966 I wrote the first 15,000 words of  Tanner's Twelve Swingers. (That wasn't my working title, which was Letts Fall in Love. It seemed a natural follow-up to The Canceled Czech, though—now that I think about it—not a particularly inviting title, looking rather less like wordplay than like a typographical error.) Still, I was writing it, and having a good time.
Then, in the next month or so, my world turned upside down. After a singularly inappropriate romance, I packed what I'd written into an attaché case, added two sets of underwear and a flask of whiskey, and caught an Aer Lingus flight to Dublin. A customs agent asked how long I'd be staying. "Indefinitely," I replied.
They let me in, and I holed up in a rooming house in Amiens Street. A block away on Talbot Street I found a shop that would rent me a typewriter, and I bought some paper that was a little longer and a bit narrower than what I'd been using. One learns to adjust. I'd bought the typing paper at Eason's in O'Connell Street, and browsed their selection of books, among which I was elated to find one called Teach Yourself Latvian. That sounds like a curse, right up there with Go take a flying leap at a rolling doughnut, or Why don't you take a dump in your hat and pull it down over your ears?, but it was just what I was looking for, and I took it back to my rooming house and went to work. It took me a month to finish the book, by which time I'd decided that The Lettish Tomatoes would be a much better title than Letts Fall in Love.
I shipped the book off to my agent, took the typewriter back to Talbot Street. Then I spent a second month hitchhiking around the country, looking for a place to live.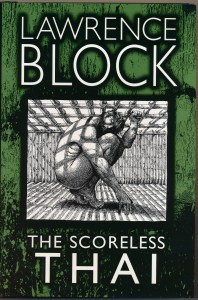 The last place I stayed was a hotel in Bantry, where I bought a portable typewriter and went to work on the fourth Tanner book, which I'd already decided to call The Scoreless Thai, as it would involve a young Siamese lad who couldn't get laid. I got a couple of chapters written, and then I read Graham Greene's The Burnt-Out Case, and then I said the hell with it and flew home. I tried to sell the typewriter back to the shopkeeper in Bantry, and he said what he could do was take it on consignment and send me what he got for it. I figured I'd never hear from him again, and I was right about that.
Back in New Brunswick, there was a month or two in which I played a lot of solitaire. Then I finished The Scoreless Thai. Meanwhile, Fawcett Gold Medal changed the title of the third book to Tanner's Twelve Swingers.
I was still in New Brunswick when the book came out, and somehow it came to the attention of a Latvian painter, one Valdi Maris, who was living in that city. He complimented me on the accuracy of the Latvian dialogue, so score one for Teach Yourself Latvian. Then, several years later, I had a girlfriend who'd been born in Riga, and from whom I learned how to say Happy New Year in that language. (Daudz laimes jaungada, in case you were wondering. Funny what stays in the mind.)
And now, half a century later, the book gets this Book in the Bag review by Tommy Hancock.Back in the day, it was unlikely enough that I'd be around fifty years later, let alone that anyone would be reviewing or even reading about Tanner and his adventures in Latvia. In fact the books have been in print more often than not, with later paperback editions from Jove (as pictured with the review) and Signet (who reprinted them when they published Tanner #8, Tanner on Ice, the first in the series in 28 years). At present all eight are available in the US in paperback and ebook from HarperCollins. In the UK and the rest of the world, I've self-published Tanner ebooks, with new cover art by my Production Goddess, J. W. Manus. The cover at the top of this post is hers; the other is the current HarperCollins cover.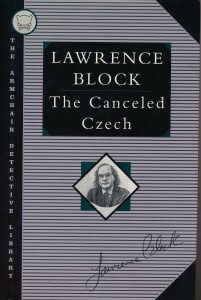 The first two Tanner books got hardcover editions as part of Otto Penzler's Armchair Detective Library. I see we still have a few copies of The Canceled Czech in our eBay bookstore, though we've been out of Thief for a long time. Subterranean Press published gorgeous trade and limited editions of #4 and #5 (The Scoreless Thai and Tanner's Tiger) but skipped Tanner's Twelve Swingers. It's never been done in hardcover, nor has Book #6, Tanner's Virgin (which originally has the lame title of Here Comes a Hero. I don't know what I'd called it, and may just have sent it in untitled, figuring Fawcett would change it anyway. But Jesus, Here Comes a Hero? Pfui.)  #7, Me Tanner, You Jane, began life as a Macmillan hardcover, and I have a couple of first edition copies I may have David put in an auction one of these days. (If you don't want to wait, email him at Lawbloc@gmail.com and he'll quote you a price.) And #8, Tanner on Ice, is not hard to find in either hardcover or paperback. We have hardcover first editions in the bookstore, and have just lowered the price to $14.99 with free shipping.
I may blog some more about some of Tanner's adventures. We'll see.
Cheers,