June, as you've no doubt heard, is busting out all over. Well, so is Matthew Scudder. It's been a week since Universal released the trailer for A Walk Among the Tombstones, and the resultant buzz has aroused the collective envy of bumblebees and bandsaws the world over. Scudder's name (and, come to think of it, mine as well) is all over the media, both print and online, and the clear consensus is that (a) it's a great trailer, (b) Liam Neeson's a great Scudder, (c) it's gonna be a great movie, and (d) maybe this dude Scudder's worth reading about.
Point (d) has led no end of folks to buy print and eVersions of AWATT, boosting it to the top of a Kindle's Noir bestseller list, while giving a stimulating shot in the arm to the rest of the series. I may be preaching to the choir here, as y'all did manage to find your way onto my newsletter list, but it seems worthwhile to furnish a list of the series in order:
#1 The Sins of the Fathers Amazon Barnes & Noble
#2 Time to Murder and Create Amazon Barnes & Noble
#3 In the Midst of Death Amazon Barnes & Noble
#4 A Stab in the Dark Amazon Barnes & Noble
#5 Eight Million Ways to Die Amazon Barnes & Noble
#6 When the Sacred Ginmill Closes Amazon B&N
#7 Out on the Cutting Edge Amazon Barnes & Noble
#8 A Ticket to the Boneyard Amazon Barnes & Noble
#9 A Dance at the Slaughterhouse Amazon Barnes & Noble
#10 A Walk Among the Tombstones Amazon B&N
#11 The Devil Knows You're Dead Amazon Barnes & Noble
#12 A Long Line of Dead Men Amazon Barnes & Noble
#13 Even the Wicked Amazon Barnes & Noble
#14 Everybody Dies Amazon Barnes & Noble
#15 Hope to Die Amazon Barnes & Noble
#16 All the Flowers Are Dying Amazon Barnes & Noble
#17 A Drop of the Hard Stuff Amazon Barnes & Noble
#18 The Night and the Music Amazon Barnes & Noble
Is it necessary to read them in order? Well, um, I wrote them in order, but what choice did I have? Scudder is a character who ages in real time, and the events in one book have an influence on succeeding storylines. Even so, many readers report that the books work well in or out of sequence.
The sales spike for AWATT had me looking at some of the book's reviews, and I found my favorite, from Marilyn Stasio in the NY Times Book Review: "The next time that friends come to town expecting a personal tour of the real New York City, here's what to hand them: a subway map, a fistful of tokens, and Lawrence Block's big bruiser of a crime novel, A Walk Among the Tombstones." (Nowadays, of course, you'd hand them a Metrocard, but the subways still ran on tokens when the book came out.)
Marilyn didn't have anything to say about Bernie Rhodenbarr's latest outing, although she's always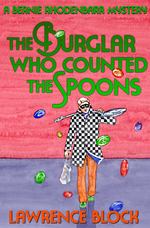 supported him strongly in the past. As you know, I elected to self-publish The Burglar Who Counted the Spoons. I'm glad I did, it's been a great experience, but there are two drawbacks to flying solo—brick & mortar stores don't stock your books, and print media don't review them.
In the UK, where Orion Books have just brought out their edition of Spoons, Gregory Wansell wrote this delicious review for the Daily Mail:
"Wise-cracking New York bookseller and burglar Bernie Rhodenbarr, back after almost a decade, is one of modern crime's most delicious characters.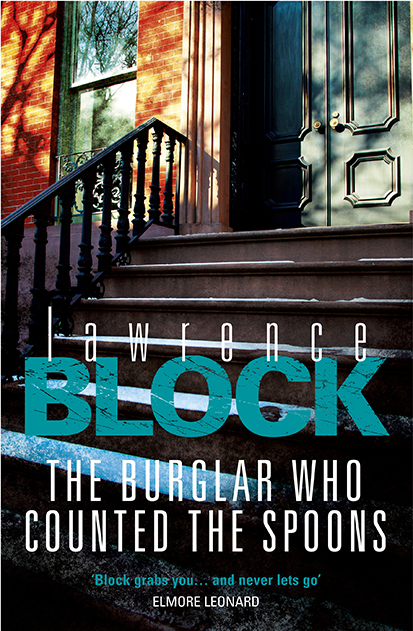 "An erudite, literary man at one moment, expert thief the next, Block's Rhodenbarr is a descendant of Nick Charles from Dashiell Hammett's masterly The Thin Man — full of the driest wit and the neatest one-liners — although on the wrong, rather than the right, side of the law.
"But, as happens here, Bernie usually finds himself embroiled in a murder that forces him to turn private detective to save himself, this time after stealing an F. Scott Fitzgerald manuscript for a client.
"Replete with references to crime novels of the past — Bernie's cat is called Raffles — it is a delight to find the burglar back on his best form, proving that, even at 75, Block is still one of the greatest crime writers of his or any other generation."
Well, I'll turn 76 in a few weeks, so I guess that's the end of that…
Never mind. The Scudder books are available on all platforms, and so indeed are the first ten Burglar books. But #11, The Burglar Who Counted the Spoons, is a Kindle Exclusive through the end of the year. One effect of this is that Amazon Prime members—you know who you are—can borrow the book at no charge and keep it as long as you like. And you can do so without worrying that you're cheatng the author, because we come out just fine.
Spoons is just one of my Kindle Select titles, all of which are available for borrowing in this fashion. I was going to list them all, but there are way too many, including a slew of short stories and most of the John Warren Wells titles. See what looks good to you. And if you've already used up your borrowing privileges for the month, well, you could always buy something. I won't tell.
Cheers!