…but everything old is new again, under the right circumstances.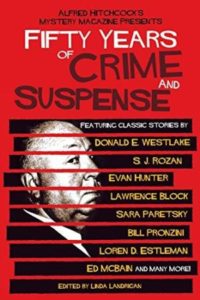 Take this AHMM cover. It's ten years old, celebrating the magazine's fiftieth anniversary, and I'd rather show you the cover of the sixtieth anniversary issue, a copy of which is on my desk right now. But my scanner quit on me a while back, so I can't scan it, nor can I find an online image to copy, because the December issue won't be on sale for a week or so. It shows the great man holding a copy of the magazine's very first issue, and it's got my name on the cover, along with Ron Goulart, John Lutz, and Kristine Kathryn Rusch, and I'd love to show it, but I'll take the one from ten years ago instead, because Google Images pointed me to it and, well, you get the idea.
Which is to say I've got a story in the forthcoming issue of Alfred Hitchcock's Mystery Magazine. A new story, published for the first time. And at the same time it's an old story, because I wrote it about 25 years ago. I typed it out, and I had it photocopied, and I evidently put both copies in a box and forgot about them. Never showed the story to my agent for submission. Never did anything at all with it.
This spring we were going through a box of manuscripts, pricing them for offer to a manuscript collector, and I spotted the photocopy of "Whatever It Takes," a 1500-word short-short. I read it, and sort of remembered writing it, but what I couldn't recall was where it had appeared, or dope out why I never included it in an anthology.
Then I found the original typescript, right there underneath the copy, and realized what I'd done. Or, more accurately, failed to do. So I read it again, and it seemed okay to me, whereupon I scanned it—my scanner still worked back then—and sent it to Linda Landrigan at AHMM, and she bought it. And while I can't claim the world of suspense fiction is that much richer for the fact, well, I'm a few dollars richer, so what the hell.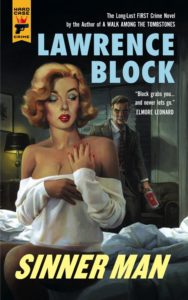 There's a pattern here, isn't there? In a week or so, Hard Case Crime will release Sinner Man, my very first crime novel. The whole saga of how it languished for eight years, only to be published by a low-rent paperback house and vanish without a trace, is recounted in detail in the book's afterword, but that it should appear now in the same month with a 25-year-old short story is, um, strange. I'm very happy with the reviews the book has been getting, it's being heralded as classic noir and genuinely evocative of its time, and don't you love the Michael Koelsch cover? But it's still strange.
And when you factor in the enthusiasm readers have been showing for my Collection of Classic Erotica, all from that same time period, and when you note the surge of interest in my Classic Crime Library, along with the reissued  Jill Emerson titles—well, it's been clear to me for some time now that my future lies largely in the past. But I'm learning to deal with it, and finding new coping mechanisms. When Daylight Savings Time ended last week, I just turned the clocks back fifty years.
I think I'd like to read "Whatever It Takes." How can I get a copy?
Simplest way is to pick it up at your local newsstand. I believe the on-sale date is November 20. The first issue, sixty years ago, had a cover price of 35¢, but the current issue will cost you $4.99. You can save with a 12-issue print subscription for $34.97.
While I was checking out subscriptions, I came across what looks to be an enticing deal for magazine fans—total digital access to over 200 magazines for $14.99 a month. They offer a 30-day free trial, and you might want to click the link just to see what magazines are available. (And no, EQMM and AHMM aren't on the list; I believe they're both print only.)
It's quite a list. But I'm happier with books.
Fine with me. There are plenty of mine for you to be happy with. I'll close with a quick plug for Resume Speed from Subterranean Press and In Sunlight or in Shadow from Pegasus; both will be out before the year's end, and both are available for pre-order now.
Cheers,