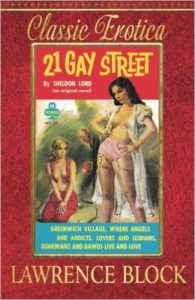 A proficiency at pocket billiards, according to my father, was traditionally regarded as the sign of a misspent youth. I used to enjoy shooting pool, but I can't say I was ever very good at it. (There was one New Year's Day party at Don Westlake's house in Culver Lake, New Jersey, when I played as if I owned the table. I just couldn't miss. Similarly, there was one intramural basketball game during my freshman year at Antioch when every shot I took went in; I scored 22 of my team's 28 points. With those two exceptions, over a decade apart, I sucked big-time at both pool and basketball. I think the Universe likes to give a person a taste of brilliance once or twice in a lifetime, perhaps to nudge him toward humility.)
Clearer evidence of my own misspent youth may be found with a glance at the bookshelves. I spent my early twenties sitting at a typewriter, and my hands were by no means idle, though it might be argued that they were doing the devil's work. I was writing up a storm, and the greater portion of what I wrote came under the heading of what we now call Midcentury Erotica. (We who wrote them tended to call them sex novels, a term with which one can hardly argue. They were novels, generally running to 50,000 words or so, and they were very much about sex. They've occasionally been called "sort-core porn," though nowadays the adjective trumps the noun, as they're far softer than they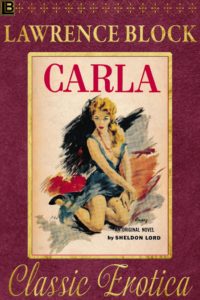 are pornographic. Some enthusiasts call them "sleaze"—a word I find unfortunate in any context, but especially so when applied to my work.
It took me some time to come to terms with my early work, but that was almost as true with some of my early crime fiction. I'm better than that now, I would tell myself, and perhaps I am and perhaps I'm not, but what difference does it make? These were books of mine, and readers had enjoyed them back in the day, and the children and grandchildren of those early readers might well enjoy them now.
And besides, wouldn't it be nice if they could earn me a couple of bucks after all these years?
For my early crime novels, collected in the Classic Crime Library, my design/production goddess came up with a uniform cover format that was all about Classic and Library. For the Collection of Classic Erotica, I realized there was no way to improve on that original cover art from the early 1960s. And so we brought out ebook editions of 24 of the books, and while we're not knocking anybody off the bestseller list, they've been moving. It's a slow way to get rich, but in all these years I've never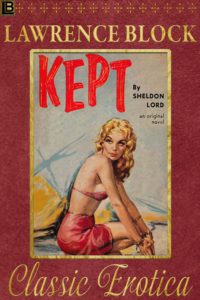 found a fast one, so I'm fine with it.
As soon as 21 Gay Street had led off the collection, some of you began asking about paperback editions. Those covers might look good on a Kindle screen, you pointed out, but wouldn't they look even better on printed books? Wouldn't they look fine on a bookshelf? Wouldn't they be eye-catching on a coffee table? I didn't take a lot of convincing, not with Ego and Avarice playing their usual roles, and just this week the books have begun rolling off our virtual assembly line. (We made one change, designed to appeal to those of you with a collector turn of mind: while for the ebook covers we trimmed off blurb lines and publisher's detritus, the new paperback editions reproduce the original covers in their majestic entirety.)
The ebooks, you should note, are Kindle exclusives. (Remember, please, that you don't have to own a Kindle to download and read Kindle books. A free Kindle app will turn your Apple or Android device into a Kindle-friendly eReader.) While this does shut out the Nooksters among you, there's an upside for KindleGardeners—all of the CCE titles may be borrowed at no cost whatsoever by Kindle Unlimited subscribers. (And if you read a lot, I can't recommend KU highly enough. A free 30-day trial should let you know whether or not it's for you.)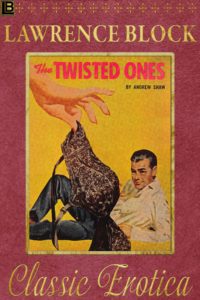 The paperbacks will be available from Amazon or in the CreateSpace store—and from other online booksellers as well, though it may take some time before they reach all those virtual shelves. On Amazon, you'll find each book's Kindle edition on the same page as its paperback edition—but maybe not right away. It sometimes seems to take a while for everything to get sorted out.
Here's a list of all the books in the Collection of Classic Erotica. If the link's live, it will take you to a page where you can order the book; if it's not yet live, that means it's coming eventually in that medium. As more paperbacks become available, we'll update the corresponding links accordingly. As you'll note, a few titles are available in audio; we may or may not decide to record and publish additional CCE titles in audio.
#1 – 21 GAY STREET ebook  paperback
#2 – CANDY ebook paperback audio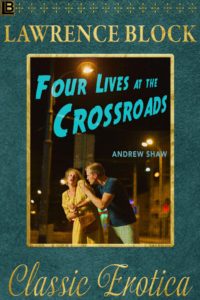 #3 – GIGOLO JOHNNY WELLS ebook paperback audio
#4 – APRIL NORTH ebook paperback  audio
#5 – CARLA ebook paperback audio
#6 – A STRANGE KIND OF LOVE ebook paperback audio
#7 – CAMPUS TRAMP ebook paperback  audio
#8 – COMMUNITY OF WOMEN ebook   paperback
#9 – BORN TO BE BAD ebook paperback
#10 – COLLEGE FOR SINNERS  ebook paperback
#11 – OF SHAME AND JOY  ebook paperback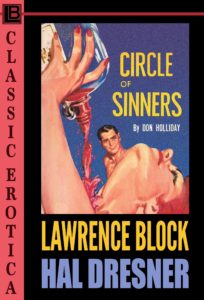 #12 – A WOMAN MUST LOVE  ebook paperback
#13 – THE ADULTERERS  ebook paperback
#15 – THE TWISTED ONES  ebook paperback
#16 – HIGH SCHOOL SEX CLUB  ebook paperback
#17 – I SELL LOVE  ebook paperback
#18 – 69 BARROW STREET  ebook  paperback  audio
#19 – FOUR LIVES AT THE CROSSROADS ebook paperback
#20 – CIRCLE OF SINNERS (with Hal Dresner)  ebook paperback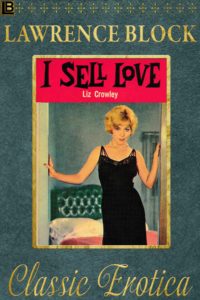 #21 – A GIRL CALLED HONEY (with Donald E. Westlake)  ebook paperback  audio
#22 – SIN HELLCAT (with Donald E. Westlake)  ebook paperback  audio
#23 – SO WILLING (with Donald E. Westlake)  ebook paperback  audio
And yes, there will probably be more titles in the future. I wrote a lot of these, and seem willing to share them with the world. And may I suggest that you click on some of the links even if you're not interested in reading the books? The product descriptions on the Amazon pages frequently consist more of an extended trip down Memory Lane than summaries of the books. I'm urged now and then to write a memoir, and it's pretty clear that's not gonna happen…but in a sense I'm doing it piecemeal here and there, and a lot of material has been finding its way into these book descriptions.
Have fun!