This newsletter just went out to subscribers. The border, alas, does not appear here in the blog. Think autumn leaves:
I'm not sure the border works. I was going for orange, and this comes close, but it's spring in New York—finally!—and the template I've chosen is positively autumnal. I'll let it stand for three reasons. (1) it looks kind of nice, (2) it's autumn for all of y'all in Australia, and (3) I'm too lazy to change it.
And too busy, because there's a lot to report…
First, a little movie news. A Walk Among the Tombstones, with Liam Neeson as Matthew Scudder, is moving right along. The local weather got in the way, and you can imagine how welcome lightning and thunder are during a night shoot in Green-Wood Cemetery. But last week I watched Scudder and TJ meet over computers in the main library at 42nd and Fifth, and a week from today I get to be in the movie myself, as an extra in a scene at a cop bar. "Wear a suit," were the instructions I got from writer/director Scott Frank. Hey, I can do that. But I don't think I'll wear my orange shirt, Wednesday or no.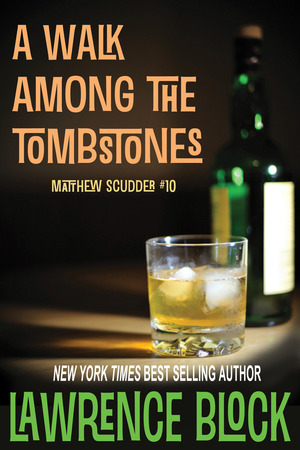 The conventional wisdom holds that a film can boost a book's sales dramatically. I don't know that previous films made from my books had that effect, but then nobody went to see them, so what could I expect? But I've been monitoring sales of Tombstones, and there's been a definite uptick in sales for both the eBook and the trade paperback. (The rights reverted a while ago, and I'm the publisher now, so I can track sales as they happen. Neat!) Both editions are in stock at Amazon and Barnes & Noble, and the eBook is available at all other electronic platforms as well. If you'd rather listen to the book, superbly narrated by Mark Hammer, you can find it at Audible.
Speaking of audio, today's the on-sale date for 19 of my titles making their audio debut. They're all ePublished by my friends at Open Road, who've arranged for audio versions from Audible, and it's quite a list: 69 Barrow Street, A Girl Called Honey, A Madwoman's Diary, A Strange Kind of Love, A Week as Andrea Benstock, April North, Campus Tramp, Candy, Carla, Cinderella Sims, Gigolo Johnny Wells, Passport to Peril, Ronald Rabbit is a Dirty Old Man, Sin Hellcat, So Willing, The Liar's Bible, The Liar's Companion, The Trouble With Eden, and Threesome.
Except for the two writing books, these are all early works, and most were initially pseudonymous. I never expected to see them back in print, and am delighted they're  reaching a new audience after all these years. But who would have dreamed they'd ever be audioVailable? (Song cue: "It Never Entered My Mind.")
It was a year and a half ago when I made a single volume of all the Matthew Scudder short stories and novelettes, and published it myself with the help of my friends at Telemachus Press. The Night and the Music was a great success from the start, and some months ago I narrated the unabridged audio version for AudioGo. (And the title story is yours free of charge from Ambling Books.)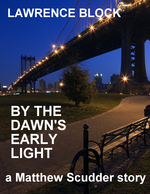 Because short stories seem to work well on eReaders, I've published selections from The Night and the Music as Kindle singles. Three of them, however, are not exclusive to Kindle, so you Nooksters now have the opportunity to pick up By the Dawn's Early Light, Batman's Helpers, and Let's Get Lost. (These three stories have also been published at Smashwords, and are thus available for Apple, Kobo, and Sony Reader.)
Over the years, short stories have frequently served me as starting points. Keller was born in a short story, "Answers to Soldier," and a couple of years slipped by before it occurred to me to write anything more about him. Since then his career has been an episodic one, and five of those episodes are individually eVailable.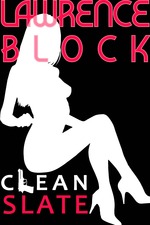 And so are the first four episodes of Getting Off, my 2011 Hard Case Crime novel about an eccentric young woman named Kit Tolliver. If You Can't Stand the Heat, Rude Awakening, and You Can Call Me Lucky are Kindle exclusives; Clean Slate, which debuted in the George R. R. Martin and Gardner Dozois anthology, Warriors, and was selected for Harlan Coben's Best American Mystery Stories, is available for Kindle and Nook and all other platforms as well.
And that brings us to Orange Wednesday, doesn't it? Time for me to give something away. How about the first Kit Tolliver story, If You Can't Stand the Heat—free at Kindle for the next four days.
You say you already bought the story? Shelled out a cool $2.99 for it the minute it went live earlier this month? Hmmm. Okay, how about The Merciful Angel of Death, a Matthew Scudder story from the darkest days of the AIDS crisis. A bittersweet story—it had the engineer holding back tears when I recorded it for AudioGo—and it's yours free through Saturday.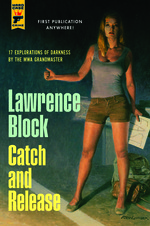 Now what else can I report? Well, Catch and Release, a joint venture of Hard Case Crime and Subterranean Press, is available for pre-order in advance of its fall release. And a little bird tell me it'll be getting a starred review in a week or so.
The book's a collection of my short fiction written since my omnibus collection, Enough Rope—along with a long-lost and long-unpublished story from 1964. I'm crazy about the cover, it's what we've learned to count on from Hard Case, and Subterranean's unmatched when it comes to quality book production. The only downside is that their books sometimes sell out in a hurry. It's early days now, but pre-ordering is a way to avoid leaving anything to chance…
Ah, that's enough for this lovely spring day. (Or autumn, I guess.) Load up on the two free stories, but save some room for those new audiobooks. And, should you find yourself in a generous mood, drop a review on the Amazon page and share your enthusiasm for If You Can't Stand the Heat and The Merciful Angel of Death.
LB
LB's Bookstore on eBay
LB's Blog and Website
LB's Facebook Fan Page
Twitter:  @LawrenceBlock
PS: As always, please feel free to forward this to anyone you think might find it of interest. And, if you've received the newsletter in that fashion from a friend and would like your own subscription, that's easily arranged; a blank email to lawbloc@gmail.com with Newsletter in the subject line will get the job done.