"Pick a painting and write a story." That, simply enough, was the assignment for writers invited to contribute to In Sunlight or in Shadow, and the relationship of story to painting was up to them. Some elected to tell the story they found implicit in their chosen painting; others used the work as a jumping-off point, inspiring their own work of fiction. 
In "The Incident of 10 November," Jeffery Deaver has concocted a tale in which the painting itself—"Hotel by a Railroad"—plays an  actual part.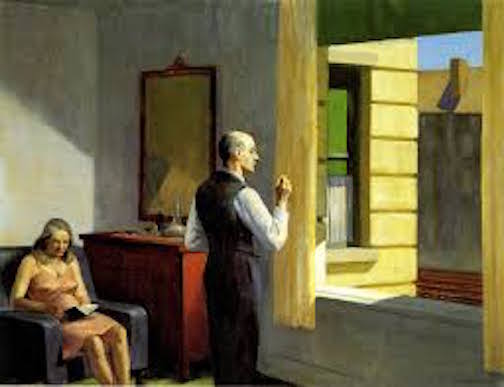 THE INCIDENT OF 10 NOVEMBER
by Jeffery Deaver
December 2, 1954
General Mikhail Tasarich, First Deputy Chairman of the Council of Ministers of the Union of Soviet Socialist Republics
Kremlin Senate, Moscow
Comrade General Tasarich:
I, Colonel Mikhail Sergeyevich Sidorov, of recent attached to the GRU, Directorate for Military Intelligence, am writing this report regarding the incident of 10 November, of this year, and the death associated therewith.
First, allow me to offer some information about myself. I will say that in my 48 years on this earth I have spent 32 of them as a soldier in the service of Our Mother-Homeland. And those have been proud years, years that I would not exchange for any sum. During the Great Patriotic War, I fought in the 62nd Army, 13th Guards Rifle Division (our motto, as you, Comrade, may recall, is: Not One Step Back! And, O, how we stayed true to that slogan!). I was privileged to serve under General Vasily Chuikov at Stalingrad, where you, of course, commanded the army that, during the glorious Operation Uranus, crushed the Romanian flank and encircled the German 6th Army (which merely months later surrendered, setting the stage for Our Mother-Homeland's victory over the Nazi Reich). I myself was wounded several times in the butchery that was the defense of Stalingrad but continued to fight, despite the wounds and hardships. For my efforts I received the Order of Bogdan Khmelnitsky, 3rd class, and the Order of Glory, 2nd Class. And, of course, my unit, as yours, Comrade General, was honored with the Order of Lenin.
After the War, I remained in the military and joined the GRU, since I had, I was told, a knack for the subject of intelligence, having identified and denounced a number of soldiers whose loyalty to the army and to Revolutionary ideals was questionable. Everyone I denounced admitted their crime or were found guilty by tribunals and either executed or sent East. Few GRU officers had such a record as I.
I ran several networks of spies, which were successful in halting Western attempts to infiltrate Our Mother-Homeland, and I was promoted through the GRU to my recent rank of colonel.
In March of 1951 I was given the assignment of protecting a certain individual who was deemed instrumental in Our Mother-Homeland's plans for self-defense against the imperialism of the West.
The man I am referring to was a former German scientist, Heinrich Dieter, then aged 47.
Comrade Dieter was born in Obernessa, Weissenfels, the son of a professor of mathematics. His mother was a teacher of science at a boarding school near her husband's university. Comrade Dieter had one brother, his junior by three years. Comrade Dieter studied physics at the Martin Luther University of Halle-Wittenberg, which awarded him a bachelor's of science degree, and he received a master's of science in physics from Leopold Franzens University of Innsbruck. He completed his doctorate work in physics shortly thereafter at the University of Berlin. He specialized in column ionization of alpha particles. No, Comrade General, I too was not familiar with this esoteric subject but, as you will see in a moment, his discipline of study was to have quite some significant consequences.
While in school he joined the student branch of the Social Democratic Party of Germany (SPD) and the Reichsbanner Schwarz-Rot-Gold, which served as the party's paramilitary wing. But he quit these organizations after a time, as he showed little interest in politics, preferring to spend the hours in the classroom or laboratory. He was, it is asserted, part Jew, and accordingly could not join the Nazi Party. However, since he appeared apolitical and did not openly practice his religion, he was permitted to maintain his teaching and research posts. That leniency on the part of the Nazis could also be attributed to his brilliance; Albert Einstein himself said of Comrade Dieter that he had a formidable mind and was, rare among scientists, a man who could appreciate both the theoretical and the applicable aspects of physics.
When the Dieter family observed that people like themselves—intellectuals of Jewish heritage—would be at risk in Germany they made plans to emigrate. Dieter's parents and brother (and his family) successfully traveled from Berlin to England and from there to America, but Comrade Dieter, delayed in finishing a research project, was stopped on the eve of his departure by the Gestapo, based on a professor's recommendation that he be pressed into service to assist in the war effort. Owing to his research (concerning the aforementioned "alpha particles"), Comrade Dieter was assigned to assist with the development of the most significant weapon of our century: the atomic bomb.
He was part of the second Uranverein, the Nazi uranium project, jointly run by the HWA, the Army Ordnance Office, and RFR, the Reich Research Council of the Ministry of Education. His contributions were significant, though he did not advance far in rank or salary owing to his Jewish background.
Following Our Mother-Homeland's victory over the Nazis in the Great Patriotic War, Comrade Dieter was identified as one of the Uranverein scientists by our NKVD's Alsos Project officers in Germany. After fruitful discussions with the security officers, Comrade Dieter volunteered to come to the Soviet Union and continue his research into atomic weapons—now for the benefit of Our Mother-Homeland. He stated that he considered it an honor to assist in protecting against the West's aggression and their attempts to spread the poisonous hegemony of capitalism and decadence throughout Europe, Asia and the world.
Comrade Dieter was transported immediately to Russia and underwent a period of reeducation and indoctrination. He became a member of the Communist Party, learned to speak Russian and was helped to understand the lessons of the Revolution and the value of the Proletariat. He fervently embraced Our Mother-Homeland's culture and people. Once this period of transition was completed he was assigned work at the All-Union Scientific Research Institute of Experimental Physics at the premier Atomgrads in the nation: the closed-city of Arzamas-16. It was to here that I was sent and assigned the job of protecting him….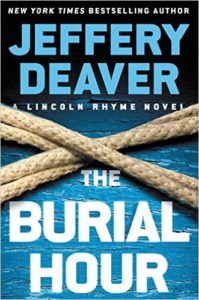 ##
You can read the rest of Jeff's story in In Sunlight or in Shadow. And to keep up with this unequaled master of the surprise twist, you can pick up his new Kathryn Dance novel, Solitude Creek, and pre-order the next Lincoln Rhyme thriller, The Burial Hour.